K100 K9 Filter Holder Set incl. CPL Polarizing Filter for 100mm Filters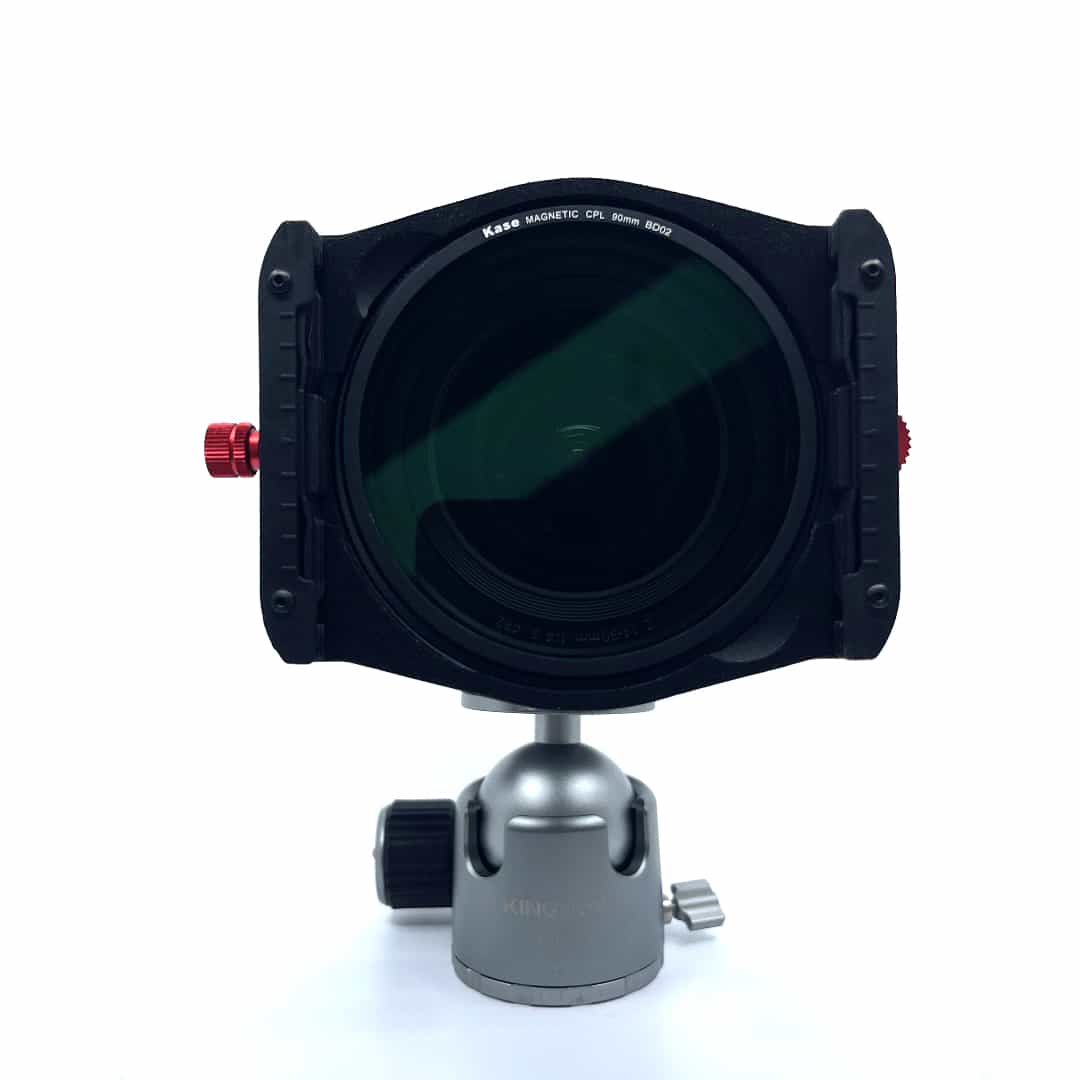 Picture similar to product
Product number:
4260442044161
Key Features
Inkl. magnetischem 90mm Polfilter

Polfilter drehbar ohne Bewegung des Filterhalters

Nutzbar für Slimfilter und 2mm Plattenfilter

Inkl. 2 magnetischer Adapterringe: 77-90mm und 82-90mm

Inkl. 2 Adapterringe: 67-82mm und 72-82mm
Product information "K100 K9 Filter Holder Set incl. CPL Polarizing Filter for 100mm Filters"
The Kase K9 Filter Holder set for 100x100mm or 100x150mm rectangular filters was developed as a filter holder solution for conventional rectangular filters with a thickness of 2mm and for our K100 SLIM filters (1.1mm material thickness).
The current 2022 version of the K9 Filter Holder uses Combined Filter Rails which are capable to hold normal 2.0mm rectangular filters as well as 1.1mm Slim rectangular filters.
Please note: In case you mount Slim and normal square filters at the same time you need to mount the slim filter first - in the first rail - counted from the lens end / filter holder.
The K9 Filter Holder set is excellent basic equipment for a photographer and offers everything to get started with filter photography straight away.
The K9 filter holder set from Kase impresses with:
its large scope of supply

its ease of use and

its excellent price-performance ratio

polarizing filter
As a special feature, the filter holder has a special developed round 90mm polarization filter, which is attached via magnetism to the basic insert of the K9 filter holder and no longer has to be screwed into the adapter ring. In this way, it is possible to quickly attach or remove the polarizing filter.
In addition, the polarizing filter can be easily and steplessly adjusted using a rotary wheel on the filter holder without having to turn the filter holder itself. Even with gloves in the cold, you can easily adapt your setup to the current conditions.
The CPL filter integrated in the set has a nano-coating so that your polarizing filter is protected from streaks and can be cleaned quickly and easily.
The CPL, which is indispensable in photography, is included in the scope of delivery, so that you do not need any additional acquisition costs.
The polarizing filter can also be used independently of the actual filter holder.
With this, the magnetic polarizing filter simply has to be inserted into the basic adapter ring.
Since the set comes with two of these basic adapter rings, you can work with two lenses at the same time.
Processing
Unwanted light reflections are minimized by installing them directly on the lens. The polarizing filter can be adjusted to the desired position with an adjustment wheel on the K9 Filter Holder, even if, for example, an ND or GND filter is used in the holder.
The Kase K9 Filter Holder system is precision CNC-machined from aluminum and anodized matt black to minimize light reflections. The filter holder is designed in such a way that no stray light can penetrate from the side. In addition, the K9 Filter Holder stands out due to its lightness and flat structure and can convince with its stable, durable workmanship.
Delivery Scope:
A total of 4 adapter rings for common lens sizes are included in the set.
The two basic adapter rings are magnetic on the outside.
Depending on the basic adapter ring, lenses with either a 77mm or 82mm lens diameter fit on the inside.
The outer diameter of the base adapter ring is 90mm.
If your lens has a smaller filter diameter, you may need additional screw-in Step Up adapter rings.
Two of these adapter rings, with a size of 67-82mm and 72-82mm, are already included in the scope of delivery.
Filter Inserts
Two filter inserts are fitted at the factory and a third can be retrofitted if required. The third filter rail is included in the scope of delivery
Up to 3 filter inserts offer excellent options for combining the filters with each other.
Our filter holder is compatible with most 100mmx100mm or 100mmx150mm filters from other manufacturers with a glass thickness of 1.1mm and 2.0mm. You can therefore also use our Kase rectangular filters in parallel with plate filters from other brands in our K9 filter holder.
Tool / Accessories

Recommended additional accessories
To round off the set perfectly, we recommend our magnetic lens cap "Round", which can also be used without the filter holder.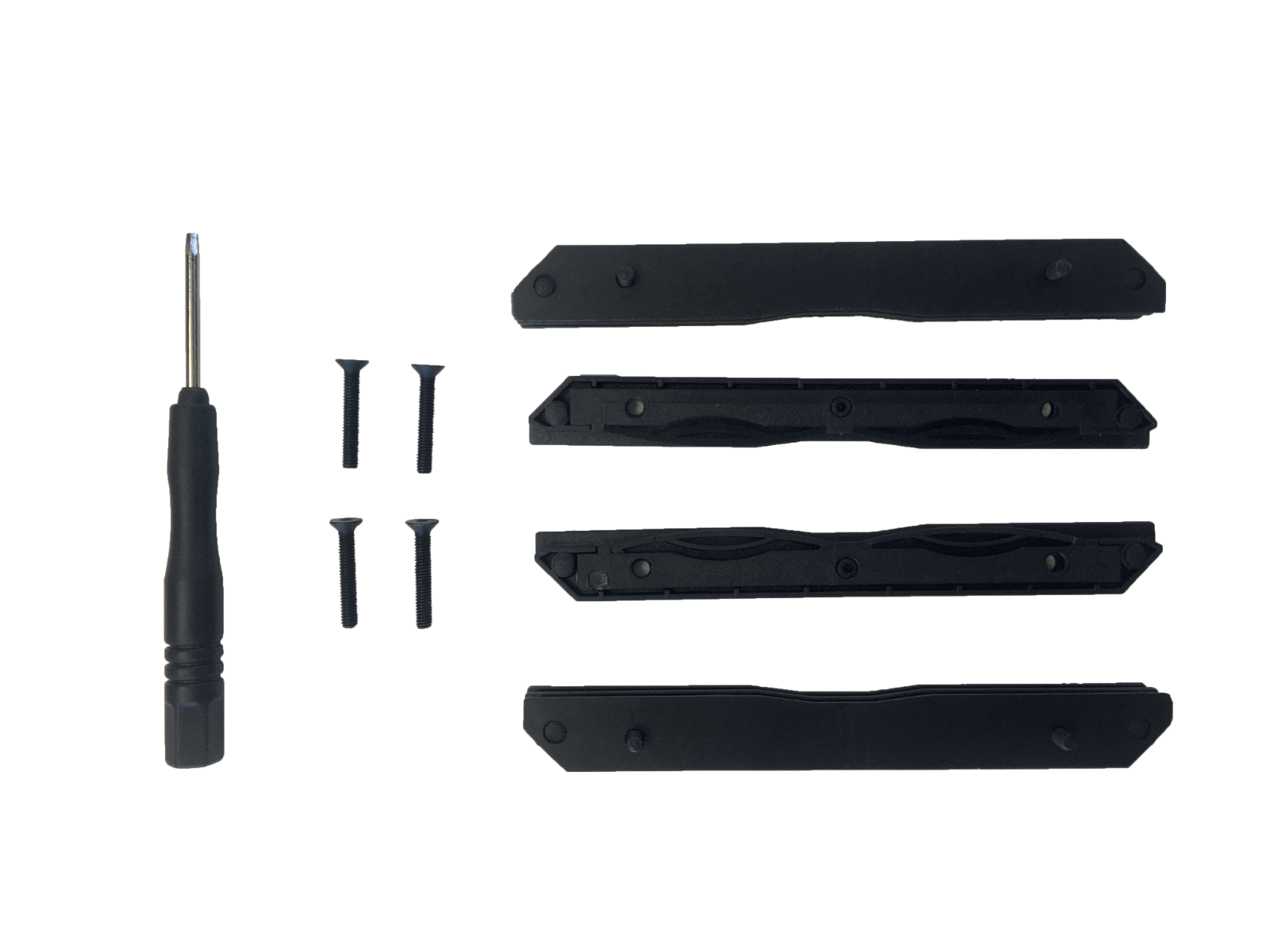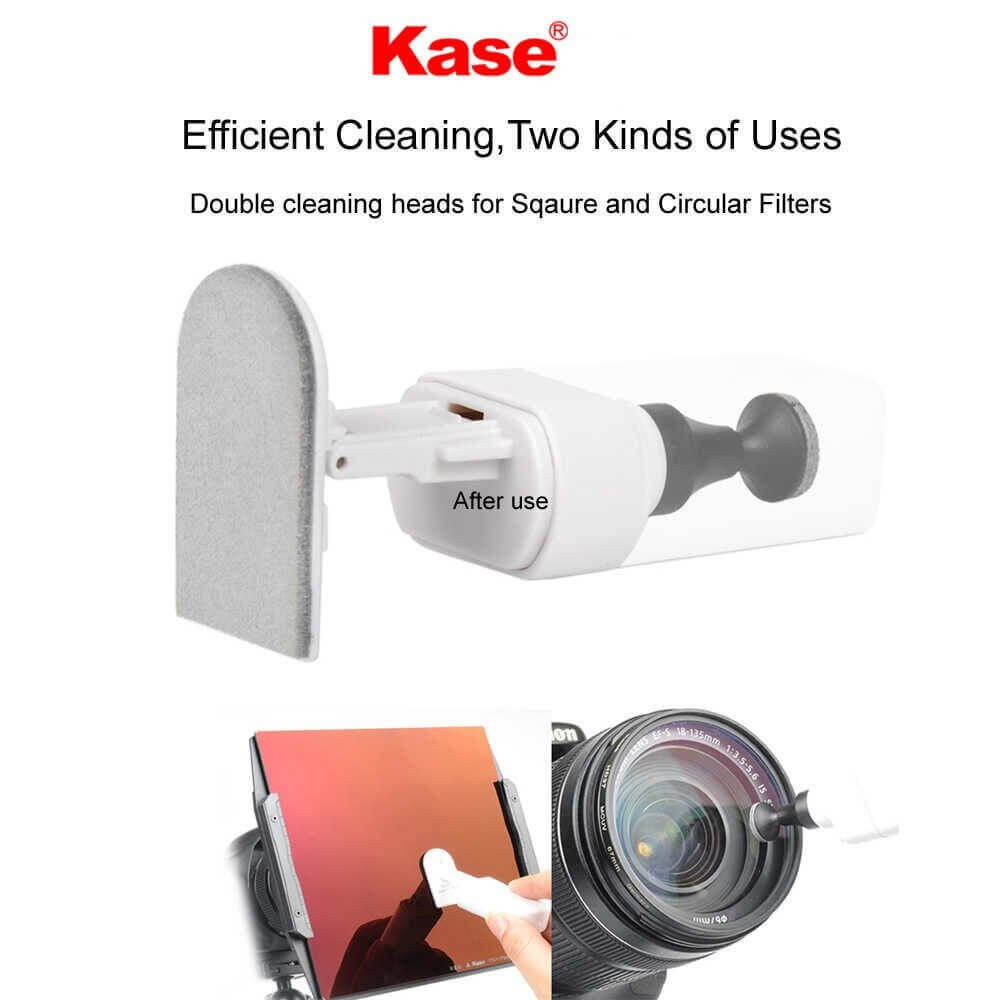 Lens Pen Brush for cleaning the lens
The Kase Lens Pen is suitable for removing light dirt from the filter glass. Our Lens Pen can be used instead or in combination with our microfibre cloth. It allows easy cleaning of the filters, for easy removal of fingerprints or other dirt. The pen is ideally suited to clean the surface precisely. Before using the Lens Pen, please ensure that all solid residue on the filter has been removed. A bellows is preferably recommended for this purpose. The cleaning surface of the Lens Pen attracts dirt. You can easily remove minor impurities with it. The Lens Pen works without cleaning fluid! Due to the practical folding mechanism the Lens Pen can be stored and transported in a space-saving way. Please work carefully on the glass. Delivery scope: 1x Lens Pen