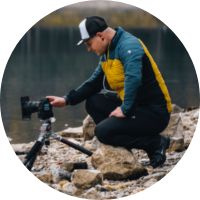 Biography
My name is Georg Ostermaier, I was born in 1989 and am a trained joiner and carpenter. In July 2019 I was able to fulfill my childhood dream and became a full-time firefighter.
Since I'm at home in the south of Upper Bavaria, I spend a lot of time in the mountains, on the beautiful lakes and in general in the diverse nature, where I can switch off while taking pictures.
The passion for photography then developed over time as I took more and more pictures with my cell phone and at some point I was no longer satisfied with the results, I wanted more. And so I took my father's SLR camera and took pictures in front of me, sometimes with more, sometimes less success.
So I dealt more and more intensively with the subject of photography, first with the basics, the settings of the camera, then with the different techniques of capturing a situation. Shortly after that I decided to buy my own equipment and I don't regret doing it for a minute.
Since I do a lot of long exposures and this is only possible to a limited extent without a filter, I am very happy to have KASE by my side as a professional partner