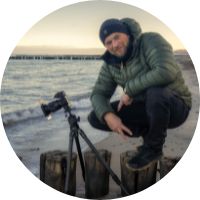 Biography
My name is Volker Handke and I am a qualified IT specialist and business economist.

Born and raised in Berlin, I now live with my wife, my two children and our dog in the outskirts of Berlin.
The foundation for photography was laid in my childhood. My uncle was a passionate nature and macro photographer and every year at Christmas he gave a slide show. My parents were annoyed, but I thought it was great.
However, my photographic beginnings were not to begin until the birth of my daughter in 2008. I bought my first DSLR camera for this occasion and quickly became enthusiastic about digital photography.
I got my knowledge from forums and my technical equipment was constantly being expanded or renewed. Only the actual photography was neglected for a long time.
After a few miserable attempts at portrait photography, I finally found my passion in travel and landscape photography in 2016. I was able to ideally combine my desire to travel with my passion for photography. Since then I have traveled through Germany several times a year and visited other countries as often as possible.
Taking photos is no longer just a hobby for me. It means discovering new places, exploring land and nature and also sharing great experiences with like-minded people.
I love being outside and capturing these moments in pictures. The use of filters is an integral part of my photography.
I have been using the high-quality products from Kase since 2017.