Kase magnetic circular ND filters: Key features
High-quality optical glass: Crafted with precision, our magnetic ND lens filters have high-quality optical glass that ensures clarity and sharpness in every shot without any colour cast.
Oil and water-repellent nano-coating: These filters come with a nano-coating that repels oil and water, ensuring your lens remains clean and free from unwanted smudges.
Shock resistant: Built to endure, magnetic ND filters are shock-resistant, so that you don't need to worry about breaking them accidentally if dropped.
Black anodised finish: The filters are black anodised to perfection, minimising light reflections and preventing any unwanted flares, allowing you to capture stunning images even in challenging lighting conditions.
Easy to clean: Thanks to the nano-coating our filters are easy and fast to clean.
Effects you can achieve using Kase magnetic circular ND filters
ND filters are used to limit the amount of light coming to the camera lens and allow shooting in bright conditions. Besides that, with their help you can achieve some interesting artistic effects:
Motion blur: Using long exposure, you can capture silky smooth waterfalls, dreamy clouds, and captivating light trails with ease.
Creative depth of field: Experiment with wider apertures in bright conditions, creating bokeh effects and isolating subjects effectively.
Vibrant colours: ND lens filters can also help to enhance colour saturation and contrast, adding depth and vibrancy to your images.
More about Kase magnetic circular ND filters
Are Kase magnetic circular ND filters compatible with my camera lens?
Our magnetic circular ND filters come in a variety of sizes, ensuring compatibility with a wide range of camera lenses. Be sure to check the product specifications for the correct fit.
How to attach a magnetic ND filter to my lens?
Attaching a magnetic circular ND filter is simple: just place the magnetic ring on your lens, and the filter will securely attach to it. Ensure the ring and filter sizes match your lens diameter for a snug fit.
Can I stack multiple magnetic lens filters for greater effect?
It depends. For example, you can mount only one magnetic filter in the K150P filter holder at a time, but you can use several ARMOUR ND filters or combine ND filter with polariser.
While it's possible to use several magnetic ND filters in some cases, be careful when doing it on wide angle lenses not to cause vignetting. Experimentation is key, so feel free to explore and find the combinations that suit your creative vision!
Do magnetic ND filters have a colour cast?
No, Kase magnetic ND filters are crafted to provide accurate colour reproduction. However, it's always a good practice to white balance your camera when using any type of filter.
Do magnetic lens filters cause vignetting?
Our magnetic circular ND filters are designed to minimise vignetting, but it's essential to choose the correct filter size for your lens to avoid any unwanted darkening at the corners of your images.
Products you may also like
ROUND Magnetic Entry Level ND Round Filter Set
The magnetic round filters from Kase are made of high-quality KW glass, which is particularly distinguished by its colour neutrality. Now you can rely on your image quality! These filters are perfect for photographers who do not need a complete square system. The advantage of these round ND filters is that they are lighter and more compact. The kits consist of an ND8 filter, an ND64 filter, a CPL filter, a magnetic adapter ring, a matching magnetic lens cap and a filter bag. Our magnetic round filter kits are available in diameters of 67mm, 72mm, 77mm, 82mm and 95mm. This kit of Kase magnetic round ND filters is great for photographers and filmmakers looking to control both reflections and light. Scope of delivery: 1x magnetic CPL (polarising filter) 1x magnetic ND8 filter 1x magnetic ND64 filter 1x magnetic adapter ring ("creates" the magnetism on the side of the lens) - Attention: This is not a step up ring! 1x magnetic lens cap 1x filter bag To use the magnetic round filter kit with larger diameters (95mm or 82mm) on lenses with diameters of 77mm, 72mm or 67mm we recommend using our magnetic step-up rings.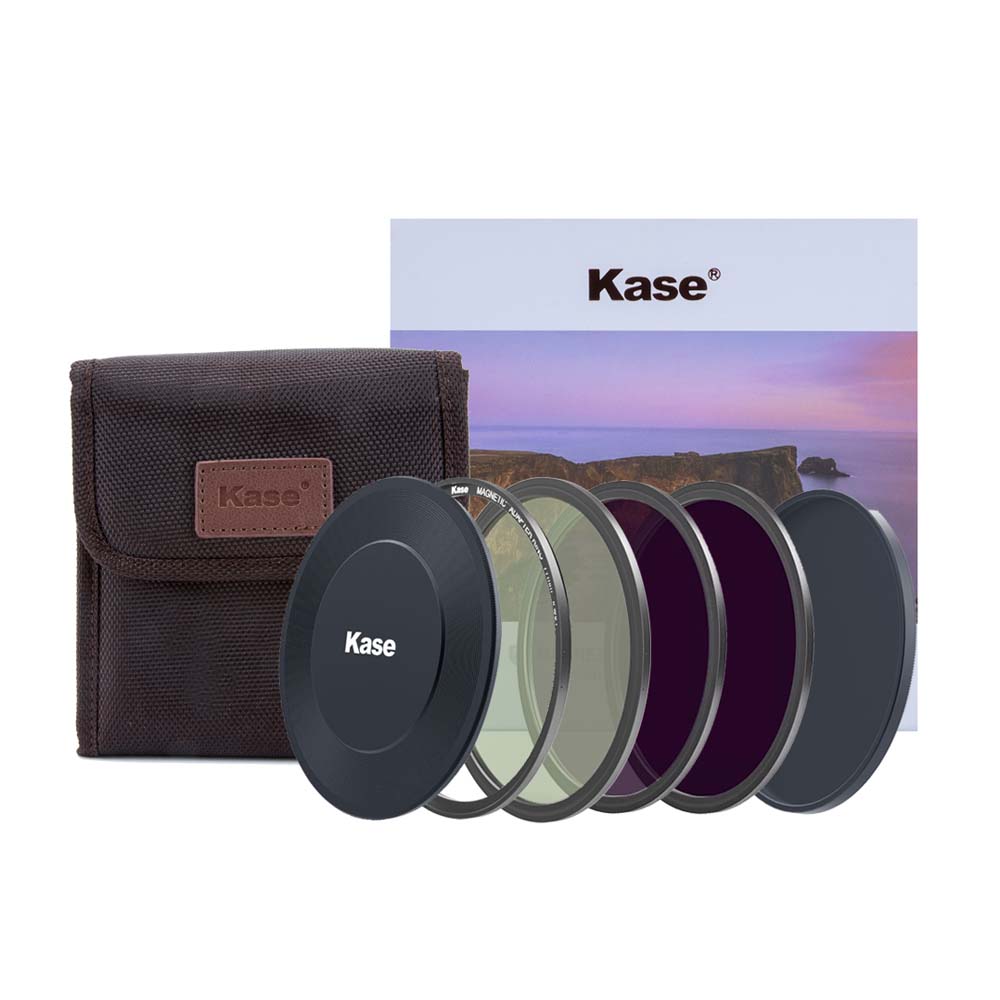 ROUND Professional ND Filter Set for Nikon Z 14-24mm F2.8
The magnetic round filter set with a diameter of 112mm was specially developed for the Nikon Z 14-24mm lens. These filters also fit lenses with smaller diameters. For this purpose, please additionally order the required magnetic Step Up Adapter Rings separately. Scope of delivery: 1x Magnetic 112mm CPL filter 1x Magnetic 112mm ND8 filter 3 Stops 1x Magnetic 112mm ND64 filter 6 Stops 1x Magnetic 112mm ND1000 filter 10 stops 1x Magnetic adapter ring 1x Filter bag 1x Magnetic lens cap Note: The Inlaid adapter ring is screwed onto the lens. There is then no need to use an additional adapter ring. The filters attach directly to the Inlaid adapter ring.