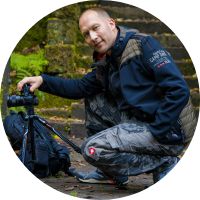 Biography
Photography has fascinated me since the days of analogue photography. With the advent of digital cameras, completely new possibilities have opened up, but "the photo is created in the head of the photographer and is seen with his eyes", and even the best digital camera cannot do that for you.
For me, photography means capturing moments that never come back. Of course, many photos have already been taken at the fascinating places on earth, and yet each photo has its own story. And it is exactly this story or unique moments that I would like to share with other people. My work focuses on nature and architecture photography.
With nature photography, I always enjoy the moods that you can experience, especially in the morning and evening hours. Our planet is full of fascinating things and I try to capture a small part of this fascination in my photographs. In architectural photography I am particularly interested in the things that do not immediately catch the eye of everyone. I have specialized in long exposures at any time of the day and prefer the golden and blue hour in my pictures. Perspectives and light play a major role here...
Whether nature or city - both have their charms, advantages and disadvantages. Since Berlin is just around the corner, there are always new exciting perspectives and photo spots.
My name is Peter Jesche