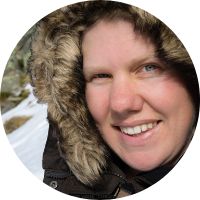 Biography
Mel Weber comes from Switzerland and lives in the border area between the Bernese Oberland and Emmental. So she has the most impressive mountain landscapes practically on her doorstep.
Ever since she was a child, she has been spending as much time outdoors as possible. For many years, the focus was on hiking, climbing and mountaineering. Photography fascinated her more and more and over time she exchanged crampons, pickaxe and climbing rope for camera, tripod and photo backpack.
So she is still regularly on the move today, always on the lookout for wild animals and the most beautiful light. Traveling is also one of her great passions - she is particularly fond of wild and remote areas such as Scandinavia, Canada, Alaska or New Zealand.
Photographically, she has specialized over the years in the areas of landscape and wildlife. Since 2017 she has been working part-time as a freelance photographer, passes on her knowledge in workshops and regularly contributes guest articles and photos to trade journals. In landscape photography, she mainly works with high-performance medium-format cameras and the high-quality filter system from Kase.