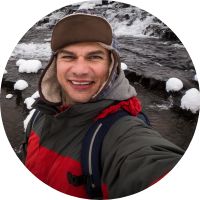 Biography
Stefano Paterna - Travel photographer with passion
Before Stefano Paterna turned his two passions - traveling and photography - into his profession, he worked for various European banks after his studies. At that time he was already completing a photographic course at the renowned London University of the Arts, which he then continued with a one-year assistantship to the advertising and fashion photographer Prasad Naik in Mumbai.
After a few years abroad and a lot of travel, the Cologne native with Italian roots returned to his German homeland. Inspired by the beauty of the world, whose diversity he keeps rediscovering with his camera, he decided to become self-employed in 2006 and opened a photography school in Cologne in 2013. Since then he has passed on his knowledge and experience to amateur photographers - in workshops on site and on selected photo trips. He is not only concerned with the pure craftsmanship, but also always with the fact that different perspectives in photography are legitimate. There is no right or wrong, but many individual perspectives that always produce new and surprising results.
Stefano Paterna is still a travel photographer and regularly photographs for magazines, publishers, tourist offices and tour operators. These projects take him to places all over the world. His photos from these trips have appeared in a number of magazines and newspapers including National Geographic Traveler, Condé Nast Traveler, Merian, GEO, Vanity Fair, Harper's Bazaar, Financial Times and Wall Street Journal.
His pictures and workshop offers, e.g. to Venice, Tuscany, Ireland, Cornwall, Kyrgyzstan, Uzbekistan and Namibia can be found on his website.
Photo trips Photo courses in Cologne Facebook Instagram Youtube