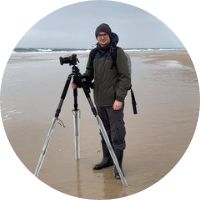 Biography
Mojn, I'm Marcel and an ambitious landscape photographer from Denmark.
I was born in Berlin in 1990, where I grew up until I was 18 years old.
After I finished school and had my diploma in my pocket, I emigrated with my family to Denmark - where I still live today.
My interest in photography started when I became a father in 2013. I just wanted to take great pictures of my son back then. After all, you only become a father once and I wanted to capture as much of that time as possible. That's how I got my first SLR camera.
However, I had to realize that it's not all that easy. I tried and practiced a lot, but I never got the pictures I wanted. In the end I gave up and turned my back on photography (for the time being).
As I sit here and write these lines, it strikes me that I actually don't remember exactly how I got back to photography. I think it was a mix of Facebook pics, YouTube videos and the beautiful Danish countryside.
I've been photographing the Danish countryside for 5 years now and I'm grateful for every minute I can spend outside. Grateful for every experienced sunrise or sunset. Grateful for every picture because it reminds us of wonderful moments. Grateful for all the people I met through photography.
Grateful and also proud to be a Kase photographer now.
If you would like to learn more about me or see more of my work, then I cordially invite you to click on one of the links below.
Kind regards, Marcel