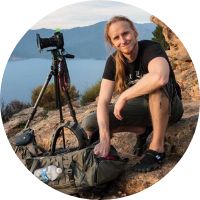 Biography
Michael Breitung is a freelance landscape photographer and lives near Nuremberg. He has been taking photographs with great enthusiasm since 2008. Since he has always loved being in nature, his focus from the start was on landscape photography. Wide landscapes, waterfalls, mountains and coasts are his favorite motifs. In order to build up a portfolio that is as varied as possible, he travels regularly and has already visited well over 20 countries.

Image processing also plays an important role for him. In order to reproduce the atmosphere in his photos as he experienced them, he developed a special workflow, which he describes in detail in his video tutorials (https://www.mibreit-photo.com/tutorials.html).

In addition to photography, he writes articles for photo magazines and his blog, where he regularly publishes articles about landscape photography, his travels and image processing. He also runs a growing YouTube channel.