Panasonic
Panasonic: Find the Perfect Filter Holder for Your Panasonic Camera Lenses

Looking for a reliable and high-quality filter holder for your Panasonic camera lenses? Look no further! At our store, we offer an extensive range of filter holders specifically designed for Panasonic cameras, ensuring that you capture every moment with precision and creativity.
Our filter holders are meticulously crafted to fit seamlessly with your Panasonic lenses, providing a secure attachment for various types of filters. Whether you're a professional photographer or an enthusiastic hobbyist, our Panasonic filter holders are essential accessories to enhance your photography experience.
Why choose our Panasonic filter holders?
Exceptional compatibility: Our filter holders are designed to perfectly fit Panasonic camera lenses, ensuring optimal performance and functionality.
Superior design: Each filter holder is meticulously engineered to be robust, durable, and lightweight, ensuring effortless handling and long-lasting use.
Versatile options: Our store offers a wide range of filter holders capable of accommodating different types and sizes of filters, providing you with endless creative possibilities.
Unparalleled image quality: By using our filter holders, you can reduce glare, control reflections, and achieve stunning color balance, resulting in captivating photographs.
Explore our Panasonic filter holder collection now!
Don't let mediocre filter holders inhibit your photography skills. Upgrade your equipment with our top-notch Panasonic filter holders to unlock your full creative potential. Shop now and discover a world of endless possibilities for your Panasonic camera lenses!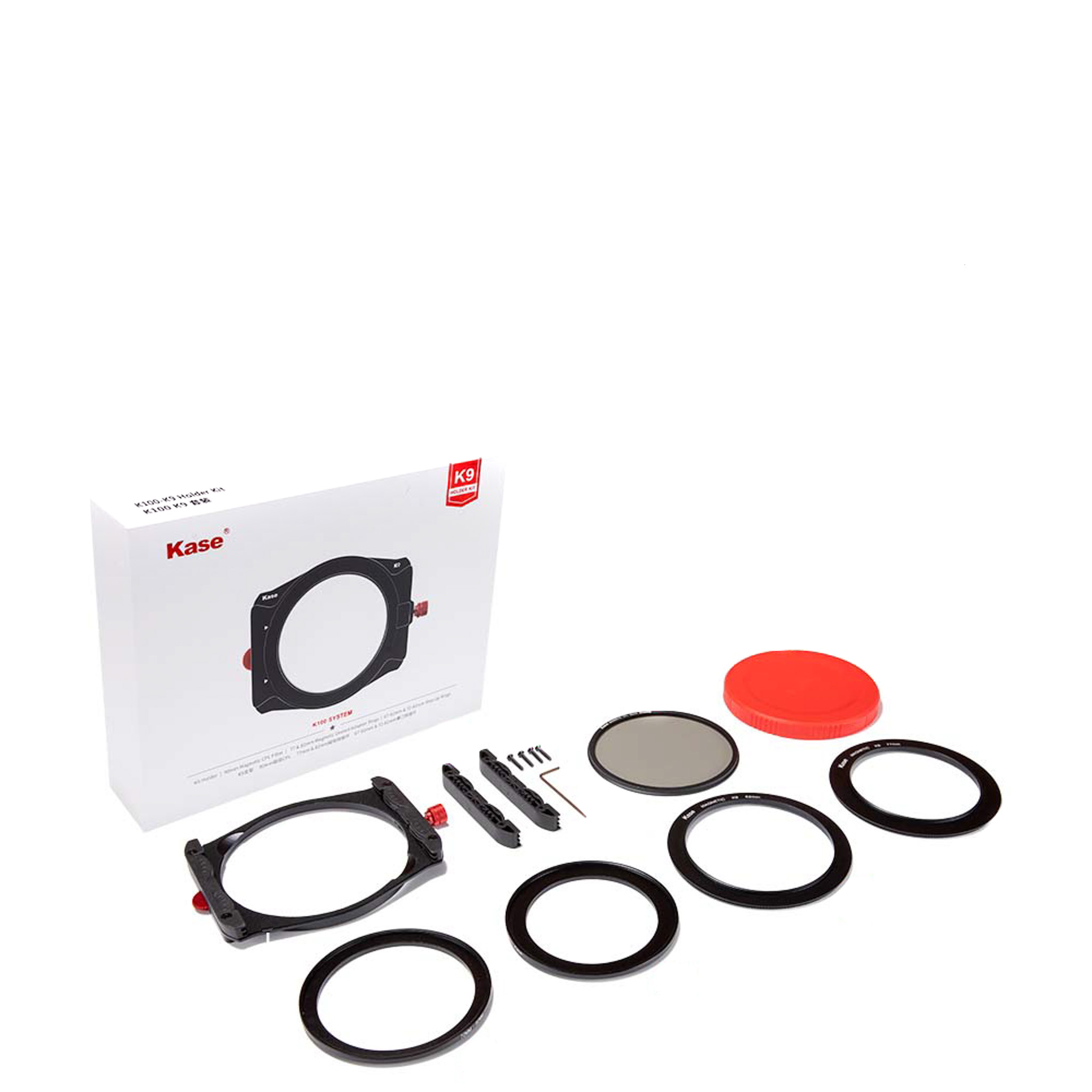 K100 K9 Filter Holder Set incl. CPL Polarizing Filter for 100mm Filters
Das Kase K9 Filterhalter Set für 100x100mm bzw. 100x150mm Rechteckfilter wurde als Filterhalterlösung für herkömmliche Rechteckfmit einer Stärke von 2mm sowie für unsere K100 SLIM Filter (1.1mm Materialstärke) entwickelt. Die aktuelle Version 2022 des K9-Filterhalters verwendet kombinierte Filterschienen, die sowohl normale 2,0-mm-Rechteckfilter als auch 1,1-mm-Slim-Rechteckfilter aufnehmen können. Bitte beachten Sie: Falls Sie Slim- und normale Rechteckfilter gleichzeitig montieren, müssen Sie den Slim-Filter zuerst montieren - in der ersten Schiene - vom Linsenende / Filterhalter gezählt. Das K9 Filterhalter Set ist eine ausgezeichnete Grundausstattung eines Fotografen und bietet alles, um direkt mit der Filterfotografie loszulegen. Das K9 Filterhalter Set von Kase überzeugt durch: seinen großen Lieferumfang seiner einfachen Anwendbarkeit und seinem hervorragenden Preis-Leistungs-Verhältnis Polfilter Als besonderes Feature verfügt der Filterhalter über einen neu entwickelten runden 90mm Polarisationsfilter, der via Magnetismus am Grundeinsatz des K9 Filterhalters befestigt wird und nicht mehr in den Adapterring geschraubt werden muss. So ist im Anwendungsfall das schnelle Anbringen bzw. Entnehmen des Pol-Filters möglich. Zudem lässt sich der Polfilter durch ein Drehrad am Filterhalter einfach und stufenlos verstellen ohne dass der Filterhalter selbst gedreht werden muss. Selbst mit Handschuhen bei Kälte können Sie so Ihr Setup einfach an die aktuellen Gegebenheiten anpassen. Der im Set integrierte CPL Filter weist eine Nanobeschichtung auf, damit Ihr Polfilter von Schlieren verschont bleibt sowie schnell und einfach gereinigt werden kann. Der in der Fotografie unumgängliche CPL ist im Lieferumfang mit inbegriffen, sodass für Sie keine weiteren Anschaffungskosten notwendig sind. Der Polfilter kann auch autark vom eigentlichen Filterhalter verwendet werden. Hiermit muss der magnetische Polfilter einfach nur in den Grund-Adapterring eingesetzt werden. Da im Lieferumfang des Sets zwei dieser Grund-Adapterringe enthalten sind, könnt ihr mit zwei Objektiven gleichzeitig arbeiten. Verarbeitung Unerwünschte Lichtreflexe werden durch die Installation direkt am Objektiv minimiert. Der Polfilter lässt sich mit einem Einstellrad am Filterhalter in die gewünschte Position bringen, auch wenn beispielsweise ein ND oder GND Filter im Halter verwendet wird. Das Kase K9 Filterhalter-System ist aus Aluminium präzisions-CNC-gefräst und matt-schwarz eloxiert, um Lichtreflexe zu minimieren. Der Filterhalter ist so konzipiert, dass kein Streulicht von der Seite eindringen kann. Außerdem hebt sich der K9 Filterhalter durch seine Leichtigkeit, sowie flachen Aufbau hervor und kann mit seiner stabilen, langlebigen Verarbeitung überzeugen. Insgesamt sind 4 Adapterringe für übliche Objektivgrößen im Set enthalten. Die beiden Grund-Adapterringe sind auf der Außenseite magnetisch. Auf der Innenseite passen je Grund-Adapterring Objektive mit entweder 77mm oder 82mm Objektivdurchmesser. Der Außendurchmesser des Grund-Adapterrings beträgt 90mm. Wenn Ihr Objektiv einen geringeren Filterdurchmesser hat, so werden ggf. Weitere Einschraub Step Up Adapterringe benötigt. Zwei dieser Adapterringe Ringe, mit einer Größe von 67-82mm und 72-82mm sind bereits im Lieferumfang enthalten. Filtereinschübe Zwei Filtereinschübe sind werkseitig montiert und ein dritter kann bei Bedarf nachgerüstet werden. Der dritte Filterschiene ist im Lieferumfang enthalten Dabei bieten bis zu 3 Filtereinschübe hervorragende Möglichkeiten, die Filter miteinander zu kombinieren. Unser Filterhalter ist kompatibel zu den meisten 100mmx100mm bzw. 100mmx150mm Filtern anderer Hersteller mit einer Glasstärke von 1,1mm sowie 2,0mm. Sie können somit auch unsere Kase Rechteckfilter parallel mit Plattenfiltern anderer Marken in unserem K9 Filterhalter verwenden. Werkzeug / Zubehör Schraubendreher Empfohlenes zusätzliches Zubehör Um das Set perfekt abzurunden, empfehlen wir unseren magnetischen Lens Cap Objektivdeckel "Round", der auch ohne den Filterhalter benutzt werden kann.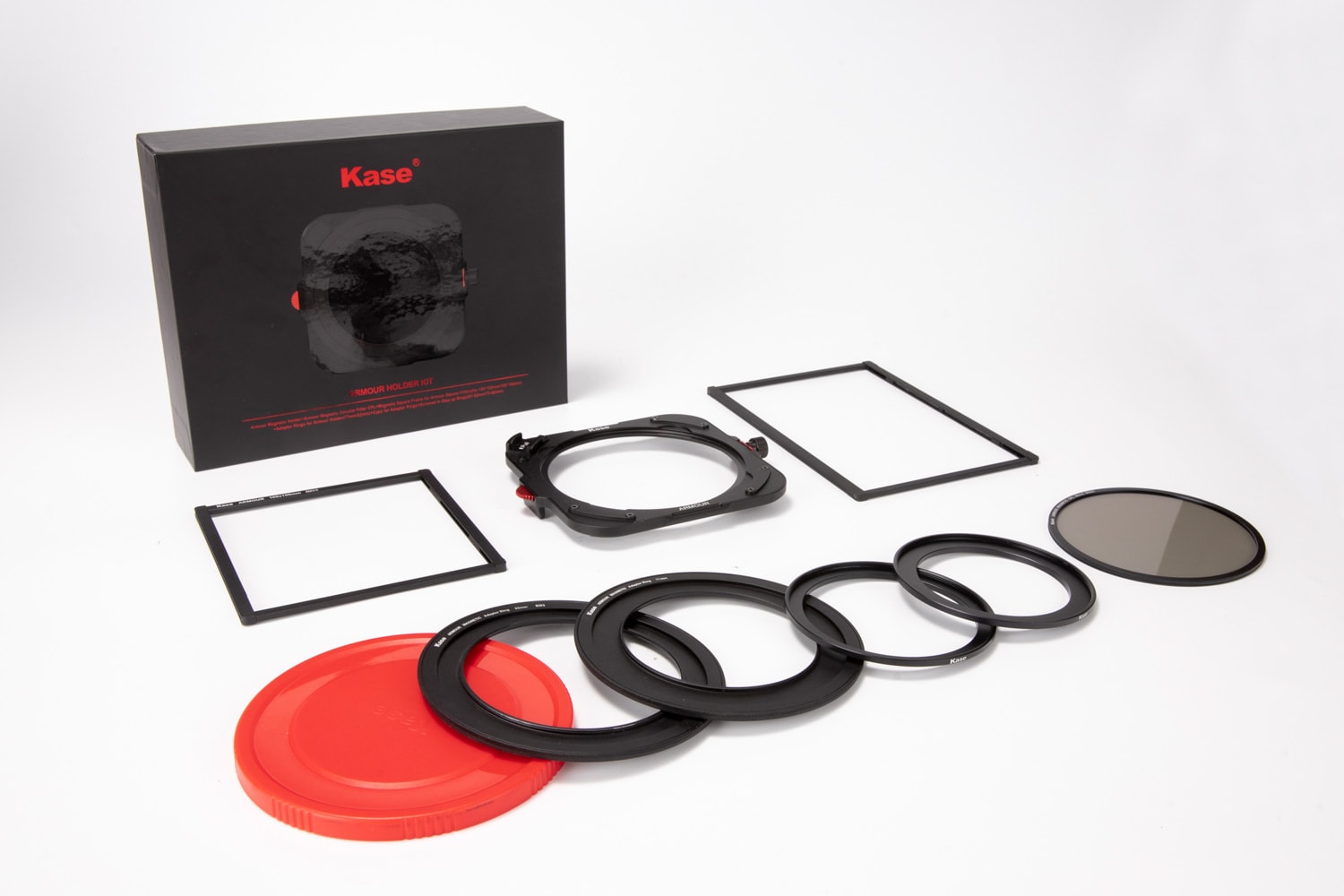 ARMOUR Filter Holder Set incl. CPL and 2 Frames
The Kase ARMOUR filter holder set is a great start to your Kase ARMOUR experience. It includes the ARMOUR filter holder and adapter. The Kase ARMOUR filter set is perfect for both professional and amateur photographers who want to use filters with all the benefits of Kase Wolverine filters, the speed of magnets and the added protection of Kase ARMOUR. Special features: Magnetic 95mm polarising filter Faster mounting time compared to the classic rectangular filter system Additional protection for the rectangular filters due to special aluminium frames with magnetic function Fewer fingerprints on the edges of the filters Hardened Pro HD optical glass Highest colour accuracy Metallic nano-coatings Scratch resistant Shock resistant Water and dust/dirt-resistant Easy to clean Circular Magnetic ND filter reduces light loss The ARMOUR filter system fits perfectly with Kase rectangular filters as well as those of other brands. What is included? 1x 100mm ARMOUR aluminium filter holder 1x 95mm ARMOUR magnetic CPL filter 2x Magnetic Base Adapter Rings: 77-95mm & 82-95mm 2x Screw-in Step Up Adapter Rings: 67-82mm & 72-82mm 1x magnetic aluminium frame 100x150mm 1x magnetic aluminium frame 100x100mm 1x plastic lens cap 1x high-quality hexagonal screwdriver To use the filter holder with other lens filter sizes smaller than 82mm, please use matching screw-in step-up adapter rings. For example, to use the ARMOUR system with a 58mm filter thread, you only need an additional 58-82mm screw-in step-up adapter ring.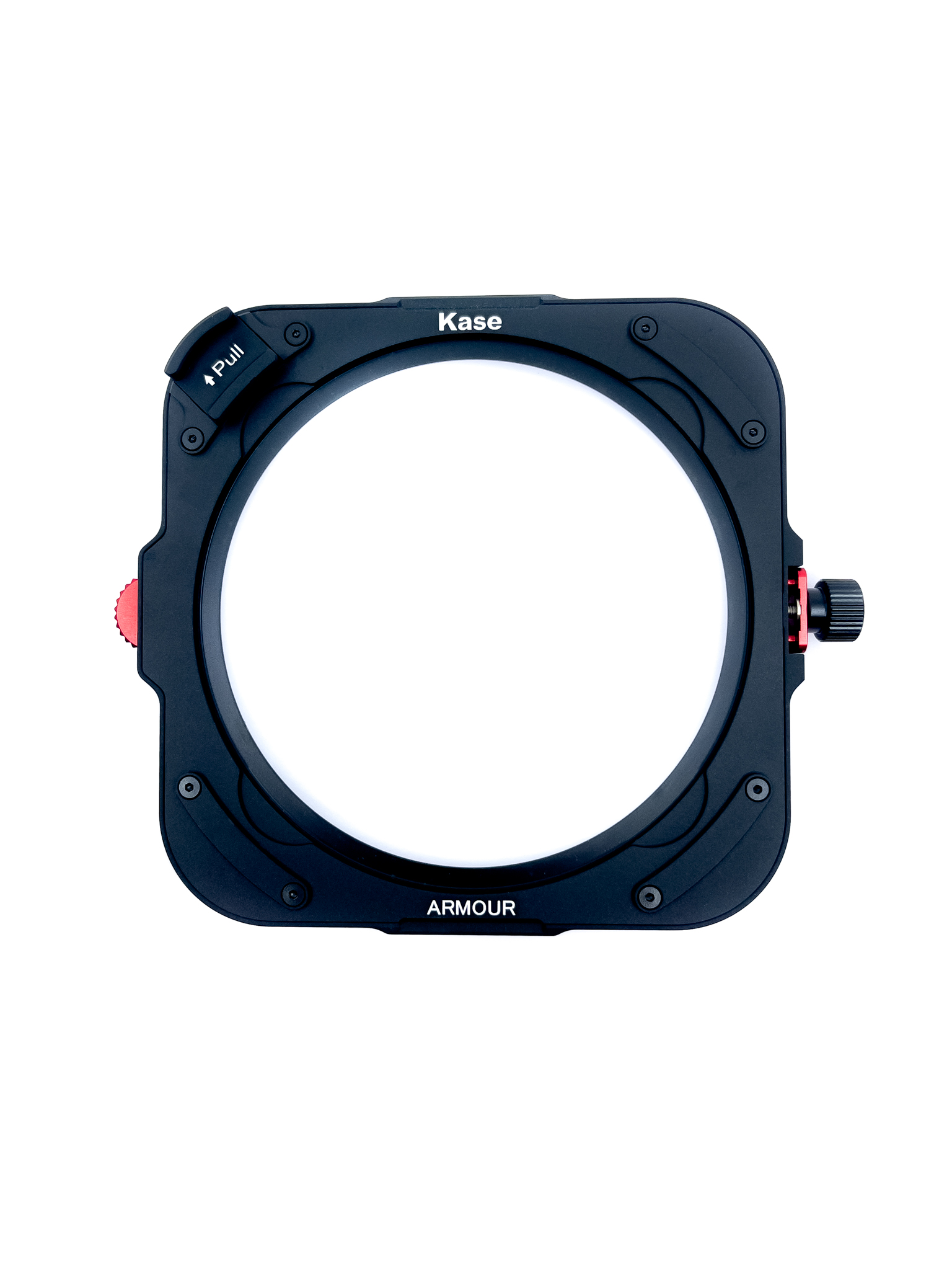 ARMOUR Filter Holder WITHOUT Accessories
Our practical ARMOUR filter holder for ARMOUR magnetic round filters and rectangular filters with matching ARMOUR magnetic frame is also available individually without accessories. Ideal for those who would like to use a second holder without further accessories. Scope of delivery: 1x ARMOUR filter holder without accessories