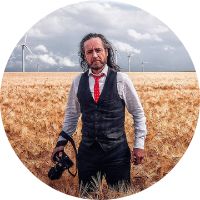 Biography
His history and philosophy of photography

Dean's love of nature and countryside was born on a farm near the mountains of New Zealand's North Island.
He took up photography at the age of 15 and taught himself to develop film. After school, he assisted a small-town newspaper photographer, who gave him half of the job, to unravel the mysteries of the camera and the philosophy of photography.
Dean fails an exam while studying biochemistry and genetics at the University of Auckland. His unimpressed professor wanted to know why. The reason for this was that he had spent endless days and nights experiencing an exhibition. The professor asked to see examples of his work, and the result was a giant leap forward: a commission for New Zealand Geographic magazine. After that there was no turning back. More work for the magazine, exhibitions and print sales followed. During this time, Dean was fortunate to meet several world-renowned photographers who encouraged him to pursue his interest in documentary photography. This led him to spend months exploring cities like Tokyo and New York, eventually coming to Germany where he is now based.
After spending a number of years writing and conducting projects in Leipzig about the post-reunification changes, Dean's beloved film camera equipment was stolen. This made the switch to digital technology necessary and another world opened up. Today, Dean has expanded his market, producing images for photo libraries, magazines, calendars and art collections. With the possibilities offered by working with digital photography and software, he has broadened his interest in long exposure and astrophotography.
His love of nature and his quest for perfect images continue to this day. With his photography he wants to make a statement that evokes an emotion. Paraphrasing a well-known adage, Dean believes, "Truth and beauty are subjective, but the medium is the message".