ND Filter Sets for DJI Mavic Mini drones
See all Kase filter sets for DJI Mavic Mini drones here. With multiple aperture options, find the drone filter set that best suits your needs.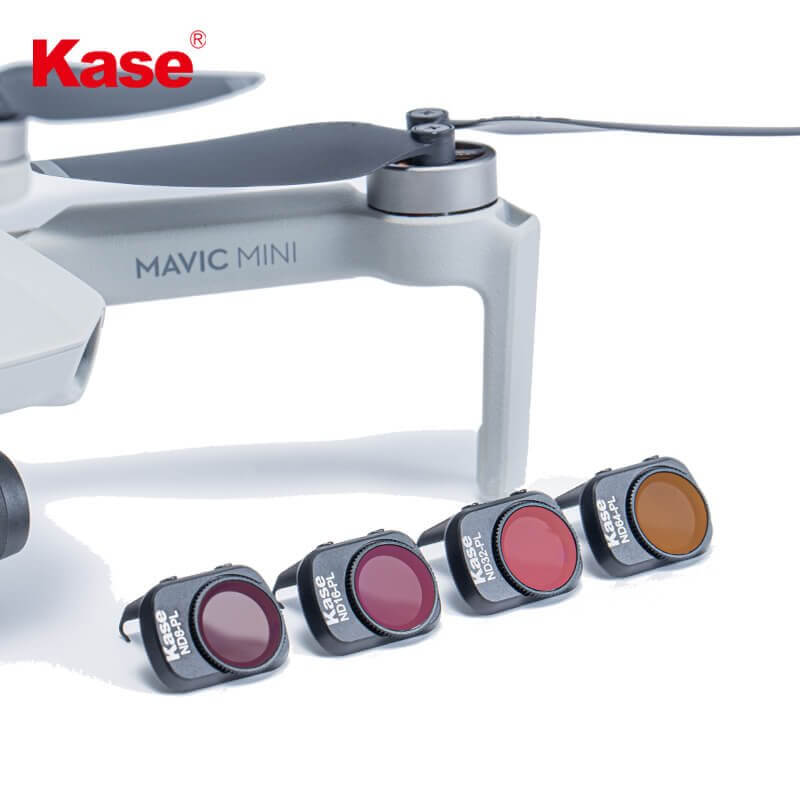 More about Kase filters for DJI Mavic Mini drones
What is included in the Kase DJI Mavic Mini 4-in-1 ND Filter Kit?
The Kase DJI Mavic Mini 4-in-1 ND Filter Kit includes four polarized filters: ND8-PL, ND16-PL, ND32-PL, and ND64-PL. These filters are designed to help you manage various lighting conditions when filming.
Why should I use the Kase ND filters for my DJI Mavic Mini drone?
Kase ND filters are made with B270 optical glass, ensuring high-definition rendering while maintaining accurate colorimetry. They come with a waterproof coating, making them resistant to water splashes and easy to clean. ND filters allow you to decrease the shutter speed, enabling long exposures even during the day. This can enhance the quality of your photos and videos, especially in bright conditions.
How do the polarized ND filters benefit my drone photography?
Polarized ND filters combine the benefits of neutral density (ND) and polarizing filters. They reduce light reflections, glare, and improve color saturation, especially in scenes with water or sky. This results in clearer and more vibrant aerial shots. The filters in this kit are also lightweight and easy to attach to your drone.

Are the Kase filters for the DJI Mavic Mini durable?
Yes, the Kase filters are designed with B270 optical glass, making them anti-scratch and durable. The multi-layer treatment and waterproof coating ensure that they remain protected against various elements, ensuring longevity.