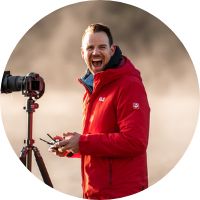 Biography
My name is Martin Sachsenweger and I am a passionate adventure photographer from the foothills of the Alps. I was born and grew up in 1982 in the Rhineland.
I discovered my love for photography early on - a small camera was my constant companion. Since I've been living in Bavaria, my love for nature and landscape photography has also developed - that's why I spend as much time as possible with my camera in nature. My passion for photography has also developed significantly. It is particularly important to me to capture the moment as emotionally as I was able to experience it myself.
Since I'm usually out at sunrise or sunset and work a lot with foregrounds, working with filters is essential for me. I am happy and proud to have a partner like KASE at my side.