K75 Filter Holder System | Kase
K75 Filter Holder Kit: Kasefilters
Swap filters faster and get the most of your photography adventures with Kase K75 Filter Holder kit.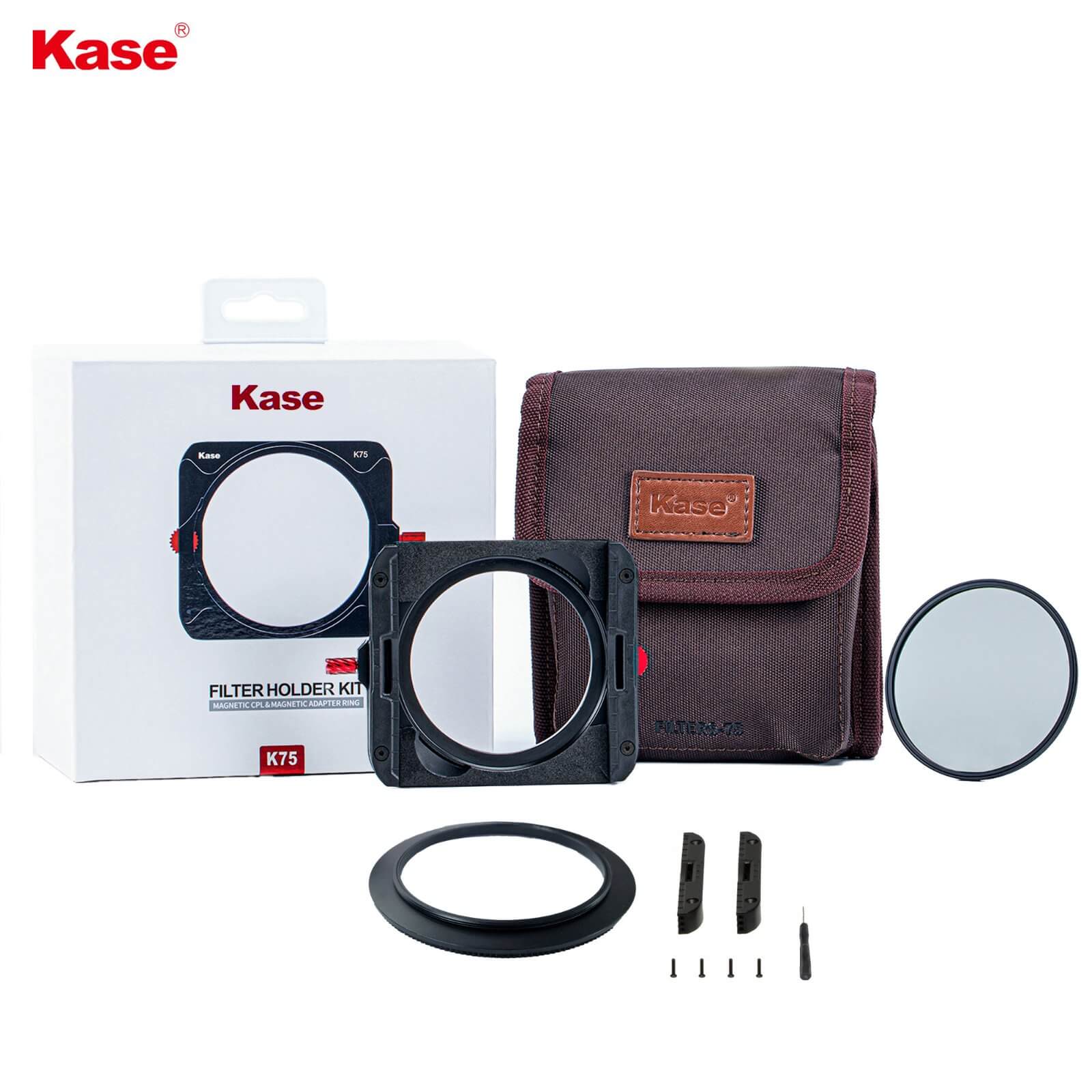 K75 Filter Holder Set for 75x100mm Filters incl. magn. CPL
Das K75 75-mm-Filterhalter-Kit mit magnetischen Slim CPL ist für unser K75-System entwickelt worden und nimmt zusätzlich zum CPL bis zu 3 Rechteckfilter in der Größe 75x100mm (1.1mm) auf. Im Lieferumfang enthalten sind eine Filtertasche (die Platz für bis zu 7 Filter bietet) sowie passenden die Adapterringe für die Aufnahme des magnetischen CPLs für Objektive mit 67 mm und 62 mm Filtergewinde und die Filterschienen für den 3. Filtereinschub. Das kleinere und kompakte Kase K75-System ist perfekt für die heutigen spiegellosen Kompaktkameras geeignet. Das Filterhalter-Konzept mit dem magnetischen Polfilter wurde von unserem erfolgreichen K8-Filterhalter vom 100mm System übernommen, bei dem der Polfilter einfach mittels Magnet im Adapterring fixiert wird - ganz ohne lästiges Schrauben. Der Polfilter kann mit dem Adapterring auch ohne den Halter an sich verwendet werden. Mit der Installation direkt am Objektiv werden die Lichtreflexe minimiert und der Polfilter kann auch ohne den Filterhalter verwendet werden. Der Polfilter lässt sich mit einem Einstellrad am Filterhalter in die gewünschte Position bringen, auch wenn beispielsweise ND oder GND Filter im Halter verwendet werden. Lieferumfang: 1x K75-Slim Filter Halter 1x magnetischer Polfilter Magnetische Adapterringe: 67mm sowie 62mm 1.1mm Filtereinschübe für den 3. Filterslot 1x Filtertasche Das Kase K75-Slim Filterhalter-Kit ist aus Aluminium präzisions-CNC-gefräst und matt-schwarz anodisiert, um Lichtreflexe zu minimieren. Wie bei unseren 100mm Filterhaltern erfolgt die Montage des Polfilters direkt am Adapterring, der in das Filtergewinde am Objektiv geschraubt wird.