Make your photography vibrant with professional lighting equipment!
Light has a significant influence on the mood and atmosphere of a photo. Depending on the light source, intensity and direction, images can appear dramatic, romantic, melancholic, or cheerful. ColorGlow professional lighting equipment will help you to create a certain mood and express your artistic vision in photography and videography.
Explore our light equipment for photography and videography
Enhance your photography with professional lighting equipment
Correct exposure: Photos cannot be taken without sufficient light. Light allows the camera to capture the subject and make details visible. Correct exposure is crucial to ensure that the image is neither overexposed (too bright) nor underexposed (too dark).
Design and atmosphere: Light changes the mood and atmosphere of a photo. Depending on the light equipment used, intensity, direction and colour temperature of the light, images can appear dramatic, romantic or cheerful. Light helps to achieve creative effects in photography and videography.
Highlight shapes and texture: Light makes it possible to make the shapes and texture of a subject visible. Shadows and highlights create contrasts that emphasise the structure and three-dimensional nature of a subject. This is particularly important in portrait photography, product photography and landscape photography.
Focus and sharpness: Lighting equipment is needed both in photography and videography for the correct focus and sharpness of an image. If the subject is sufficiently illuminated, the camera can focus better and capture details precisely.
Creative play with light: Light offers photographers countless creative possibilities. With the help of professional light equipment, they can achieve unique effects and personalise their images. Long exposures, light painting and bokeh effects are just a few examples of creative play with light.
Reduction of image noise: Sufficient light reduces image noise, especially in dark areas of a photo. With good lighting, you can keep the ISO sensitivity low for better image quality.
Creating focus and leading the eye: By placing light sources in a targeted way, photographers can draw the viewer's attention. Bright areas attract the eye, while darker areas tend to fade into the background. Light can therefore be used to control the focus and the direction of the eye in an image.
Light in photography is not just a technical necessity, but a powerful creative tool that helps photographers bring their creative visions to life and create stunning images. It is essential to understand the different light sources and lighting techniques to unlock the full potential of photography.
Use light equipment to add mood to your videos
Imagine setting the mood for your vlogs or creating cinematic scenes that leave your viewers in awe. That's the power of professional lighting equipment! With it, you can be the director of your own visual masterpiece, telling stories that touch hearts and inspire minds. Whether you're a budding YouTuber, a documentary maker, or a seasoned filmmaker, the right lighting equipment is your secret sauce to making engaging videos.
Factors to consider when choosing light equipment
Colour temperature control: Adjustable colour temperature allows you to match or create different lighting conditions.
Brightness and intensity control: Variable brightness settings enable you to adapt to changing shooting environments.
Compatibility: Ensure your equipment is compatible with your camera and other gear.
Efficiency: Look for battery capacity that will fulfil your needs in the conditions you work.
Travel Carbon Tripod C56C as Set with T20X Ball Head
Entdecken Sie das Kingjoy Carbon-Stativ C56C - das perfekte Begleiter für Ihre Reisen und Abenteuer rund um die Welt! Mit seinem kleinen und handlichen Design ist dieses Reisestativ ideal, wenn Sie nach einem Stativ suchen, das leicht und platzsparend ist. Das C56C Reisestativ vereint ein leichtes und kompaktes Design mit hoher Stabilität und einer vernünftigen Tragfähigkeit, insbesondere wenn Sie den passenden T20X Stativkopf verwenden. Mit einem Gewicht von nur 0,65 kg (ohne Kopf) und einem kleinen Packmaß ist es einfach zu transportieren und nimmt keinen wertvollen Platz in Ihrem Gepäck ein. Selbst mit dem montierten T20X Stativkopf wiegt das Stativ nur knapp über 1,00 kg. Egal, ob Sie draußen in der Natur, im Studio oder auf Reisen sind, das Kingjoy Carbon-Stativ C56C passt sich perfekt jeder Situation an. Die Kohlefaserbeine, bestehend aus drei Beinsegmenten, bieten eine beeindruckende Stabilität und Steifigkeit. Die Stativbeine können mit einem einzigen Zug ausgezogen und am Fuß fixiert werden, und das stufenlos verstellbare Stativbeinsegment ermöglicht es Ihnen, die optimale Höhe für Ihre Bedürfnisse einzustellen. Mit den Schnellverschlüssen können Sie die Beinweite in Sekundenschnelle ändern, was auch bodennahes Arbeiten problemlos ermöglicht. Dank der griffigen Füße steht das Carbon-Stativ stabil auf jedem Untergrund. Im Lieferumfang enthalten sind das Mountain Series Carbon-Stativ C56C, der belastbare Stativkopf T20X (bis zu 15 kg Tragfähigkeit), eine Schnellwechselplatte, drei rutschfeste Gummifüße (bereits vormontiert), eine Tasche, ein Gurt für die Tasche sowie eine Bedienungsanleitung. Mit dem Kingjoy Carbon-Stativ C56C können Sie sich auf eine zuverlässige und vielseitige Unterstützung für Ihre Kameraausrüstung verlassen. Investieren Sie in Qualität und erleben Sie beeindruckende Stabilität, Flexibilität und Portabilität mit diesem erstklassigen Reisestativ. Lieferumfang: 1x Mountain Series Carbon Stativ C56C 1x Stativkopf T20X (belastbar bis 15 kg) 1x Schnellwechselplatte 3x rutschfeste Gummifüße (vormontiert) 1x Tasche 1x Gurt für Tasche 1x Bedienungsanleitung Gewicht: Nur Stativ: 0,65 kg Stativ + T20X Kopf: 1,05 kg Hinweis: Auf den Produktfotos der Kopf B10 abgebildet. Es wird aber der T20X Kopf geliefert welcher eine bessere Neigungsverstellung bietet und auch bei unserem Mountain Series Carbon Stativ C82 zum Einsatz kommt.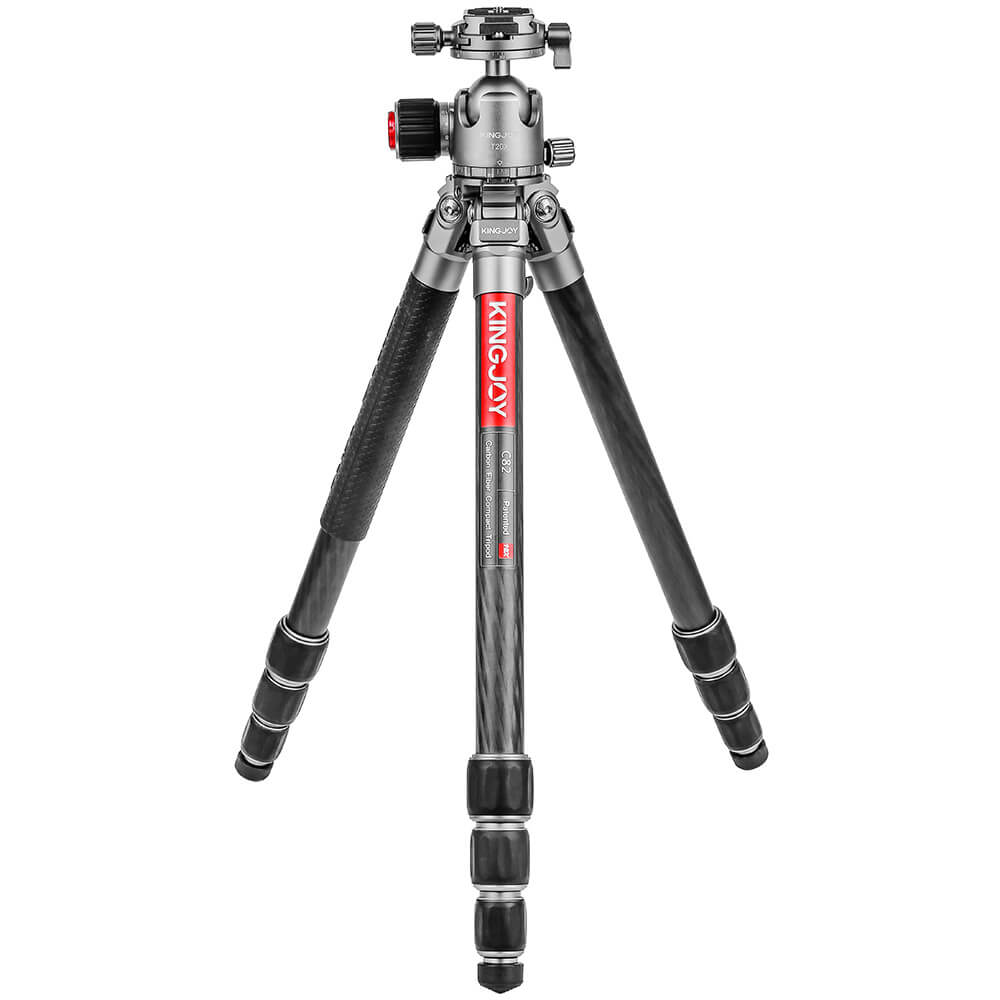 Solid Rock Carbon Fiber Tripod C82 Set with Ball Head TX20
Das Stativ C82 ist immer ein Begleiter auf Touren durch Städte und Länder dieser Welt. Das Reisestativ C82 kombiniert ein leichtes und kompaktes Design. Mit einem Gewicht von 1,03 kg und einem kleinen Packmaß ist es leicht zu tragen und nimmt keinen Platz für wichtige Utensilien weg. Egal, ob Sie im Freien, im Studio oder auf Reisen sind, das Kingjoy Carbon-Stativ C82 passt sich jeder Situation an.   Die Kohlefaserbeine, die aus drei Beinsegmenten bestehen, sorgen für Stabilität und hohe Steifigkeit. Die maximale Auszugshöhe des Stativs beträgt 125 cm und die Länge des Einziehfahrwerks 43,5 cm. Durch das stufenlos verstellbare Stativbeinsegment können Sie die optimale Höhe für Ihre Situation einstellen. Zudem ermöglichen Schnellverschlüsse eine sekundenschnelle Montage und Demontage. Aufgrund seiner griffigen Füße steht das Carbon-Stativ auf jedem Untergrund stabil. Lieferumfang: 1x Mountain Series Carbon Stativ C82 1x Stativkopf TX20 3x rutschfeste Gummifüße (vormontiert) 3x Spikefüße 1x Tasche 1x Gurt für Tasche 1x Schraubendreher 1x Bedienungsanleitung Gewicht: Nur Stativ: 1,03 kg Stativ + TX20 Kopf: 1,44 kg
Solid Rock Carbon Fiber Tripod C83S Set Ball Head TX30 and Center Column
Carbon-Stative sind ideal für professionelle Fotografen, die eine hochwertige Ausrüstung benötigen. Einziehbare Beine, eine integrierte Mittelsäule und eine Tragbarkeit von bis zu 25 kg erleichtern die Arbeit erheblich.   Nie mehr nach Verlängerungen suchen oder Beine wechseln. Alles, was Sie für ein Stativ brauchen, ist ein Stativ. Das robuste Stativ ermöglicht es Ihnen, die schwerste Kameraausrüstung zu tragen, die Sie für die Arbeit mit Ihren Fotos und Videos benötigen. Mit einer Länge der einziehbaren Beine von 49 cm und einer maximalen Auszugshöhe von 133 cm ist das C83-Carbonstativ gut verstaubar und bietet eine komfortable Arbeitshöhe.   Die klappbare Mittelsäule für mehr Höhe und seine flexible Konstruktion machen das Stativ vielseitig einsetzbar. Der Lieferumfang umfasst drei Gummibeine und Spikebeine, die gegen leicht ausgetauscht werden können. Dank der austauschbaren Beine steht das Stativ fest auf jedem Untergrund. Dies ist ein ideales Werkzeug für Ihre Fotos.   Lieferumfang: 1x C83S Stativ mit TX30 Stativkopf und Mittelsäule 1x Transporttasche 3x Spikefüße 1x Tragegurt 1x Schraubendreher 1x Bedienungsanleitung