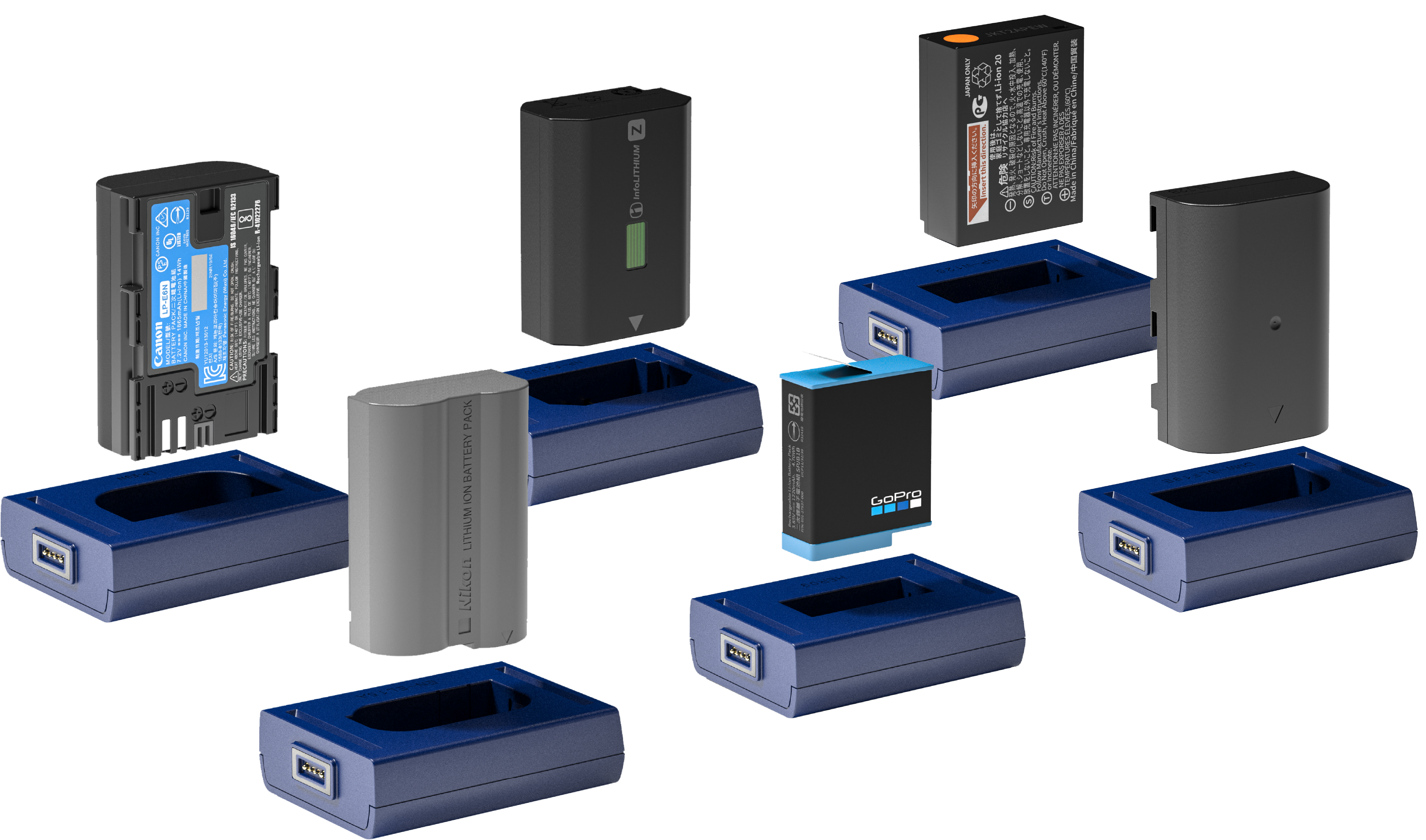 Bronine Charging Kit Adapter for Fujifilm NP-W126S W126
Passend für: Fujifilm FinePix HS30EXR, FinePix HS50EXR, X-A1, X-A10, X-A2, X-A3, X-A5, X-E1, X-E2, X-E2S, X-E3, X-H1, X-M1, X-Pro1, X-Pro2, X-Pro3, X-T1, X-T10, X-T100, X-T2, X-T20, X-T200, X-T3, X-T30, X100F, X100V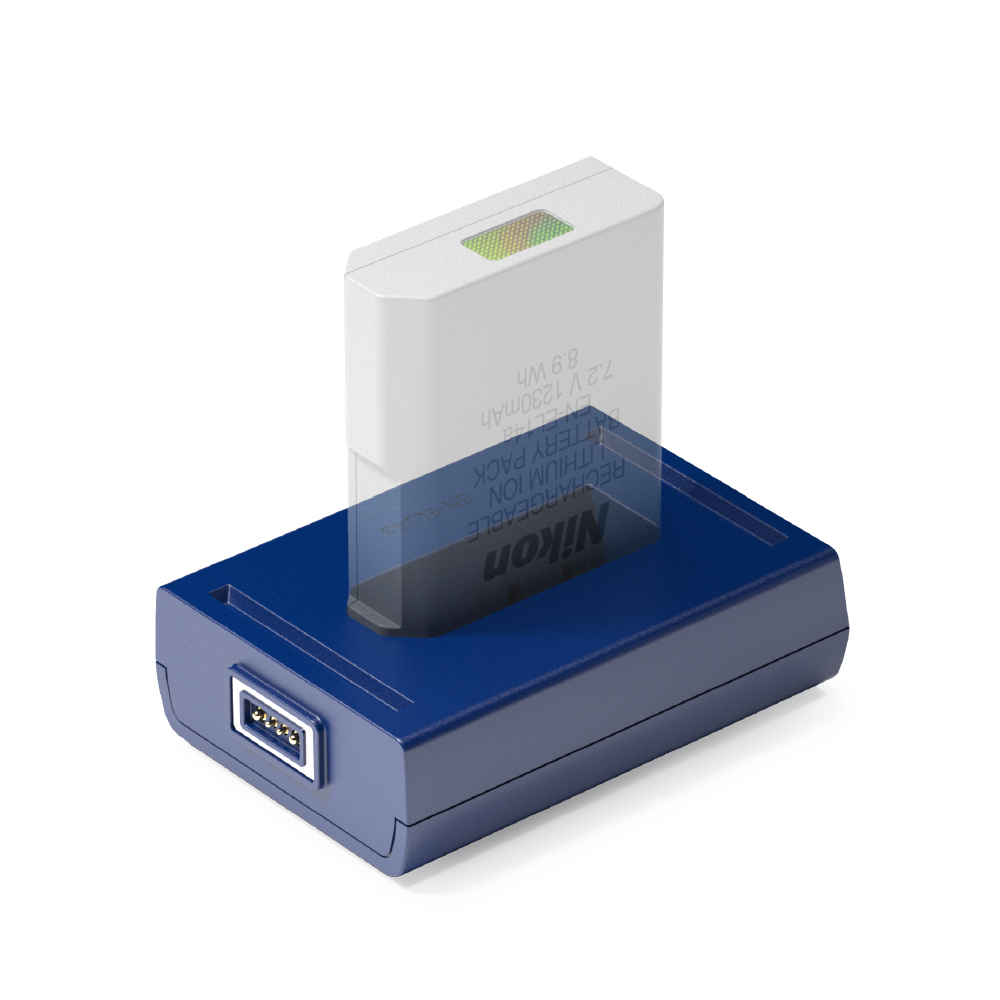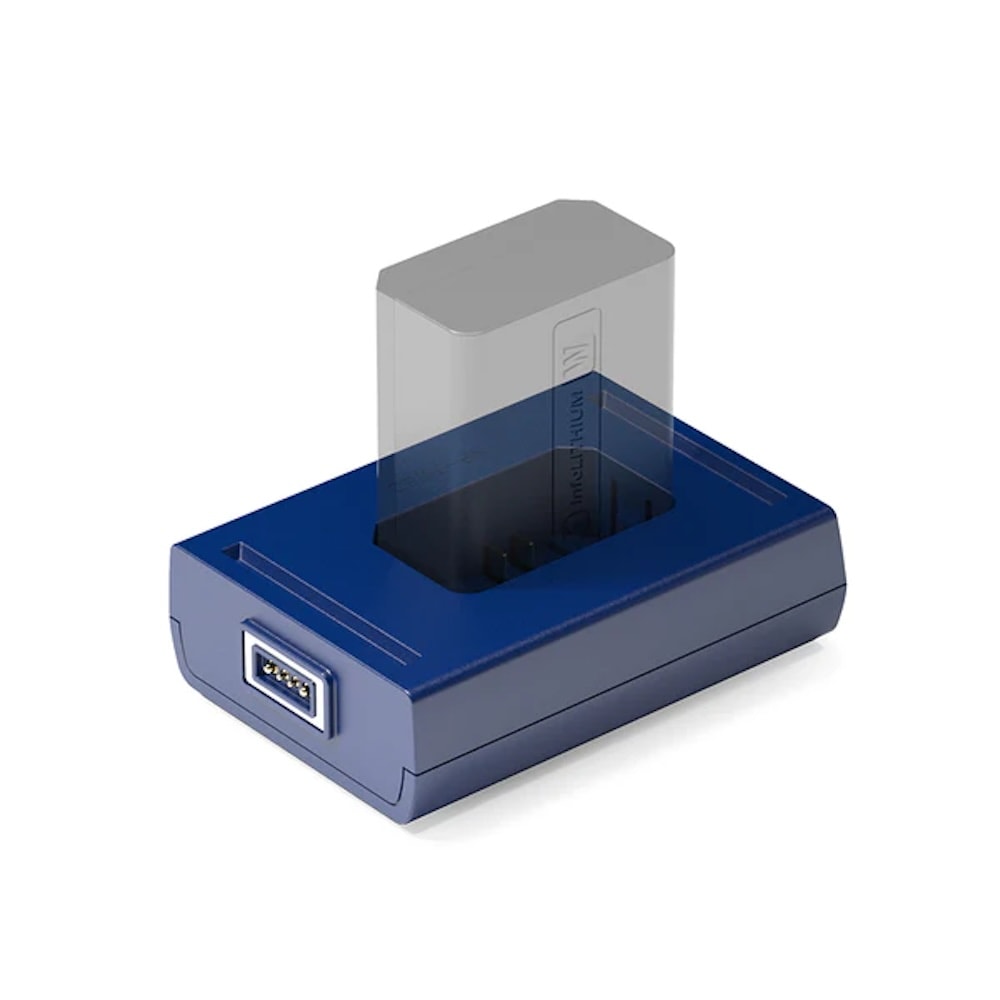 Bronine Charging Kit Adapter for Sony NP-FW50
Die Ladeschale bzw. das Ladedock für Sony NP-FW50 Akkus ist kompatibel mit den Bronine Universaladaptersystemen VKHUB2P und VKHUB4P. Sie kann entweder magnetisch am Ladegerät befestigt oder über ein Volkit Kabel verbunden werden. Die wichtigsten Merkmale im Überblick: Lädt Sony NP-FW50 Akkus und auch Akkus von Drittanbietern Passend für Bronine Universaladaptersysteme VKHUB2P und VKHUB4P Akkukapazität kann auf dem Display des Ladegeräts überprüft werden Kompakt und leicht, einfach zu transportieren Für die kleinen NP-FW50 Akkus von Sony bietet Bronine natürlich auch eine passende Ladeschale an. Diese wird magnetisch am Ladegerät befestigt und kann nicht falsch angebracht werden. In Kombination mit der Anzeige der nachgeladenen Kapazität auf dem LCD Display des bronine Ladegeräts können Sie schnell und einfach feststellen, ob Ihr NP-FW50 Akku langsam das Zeitliche segnet und ersetzt werden sollte. Lieferumfang: 1x Ladeschale für Sony NP-FW50 Akkus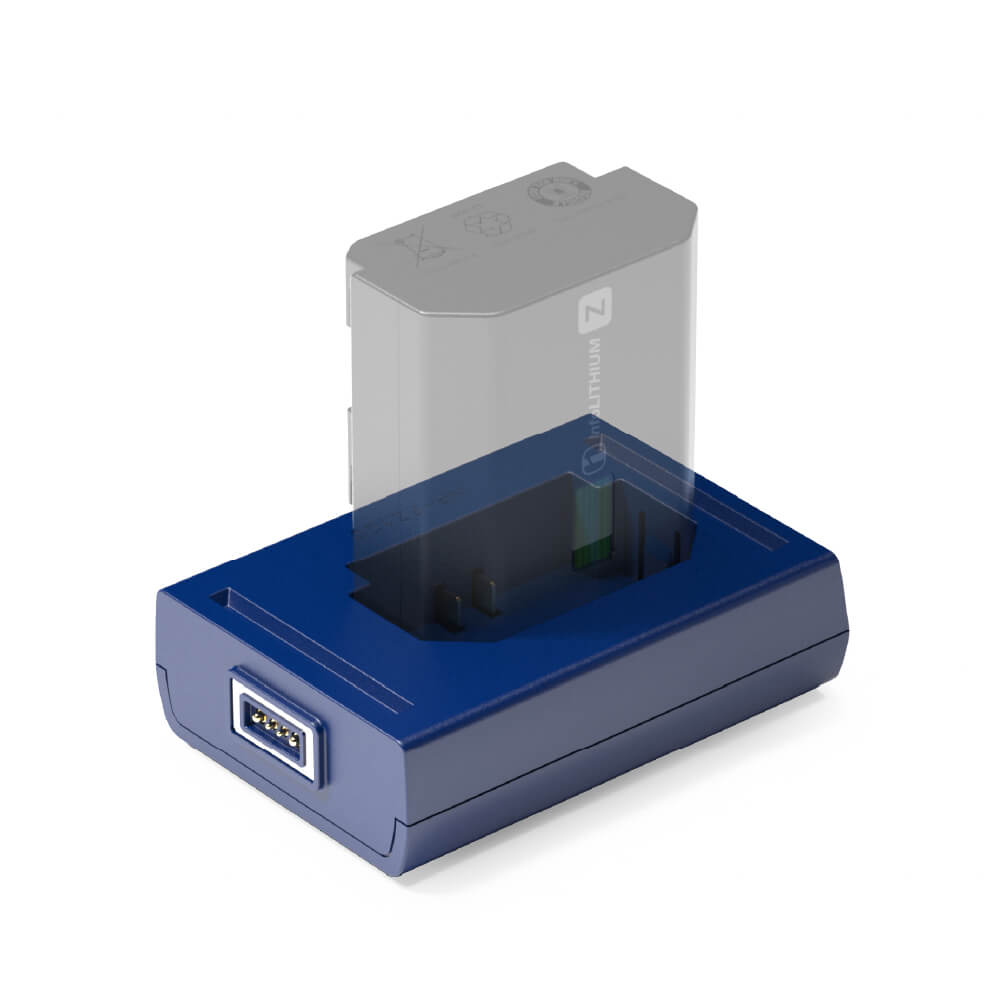 Bronine Charging Kit Adapter for Sony NP-FZ100
Die Ladeschale für Sony NP-FZ100 Akkus ist kompatibel mit den Bronine Universal Adapter Systemen VKHUB2P und VKHUB4P. Sie kann entweder magnetisch am Ladegerät befestigt werden oder über ein Volkit-Kabel verbunden werden. Wichtige Merkmale: Lädt Sony NP-FZ100 Akkus sowie Akkus von Drittanbietern Kompatibel mit den Bronine Universal Adapter Systemen VKHUB2P und VKHUB4P Akkukapazität kann auf dem Display des Ladegeräts überprüft werden Kompakt und leicht, einfach zu transportieren Für die kleineren NP-FZ100 Akkus von Sony bietet Bronine ebenfalls eine passende Ladeschale an. Diese wird magnetisch am Ladegerät befestigt und kann nicht falsch angebracht werden. In Kombination mit der Anzeige der nachgeladenen Kapazität auf dem LCD-Display des Bronine Ladegeräts können Sie schnell und einfach feststellen, ob Ihr NP-FZ100 Akku langsam an Leistung verliert und ausgetauscht werden sollte. Im Lieferumfang enthalten: 1x Ladeschale für Sony NP-FZ100 Akkus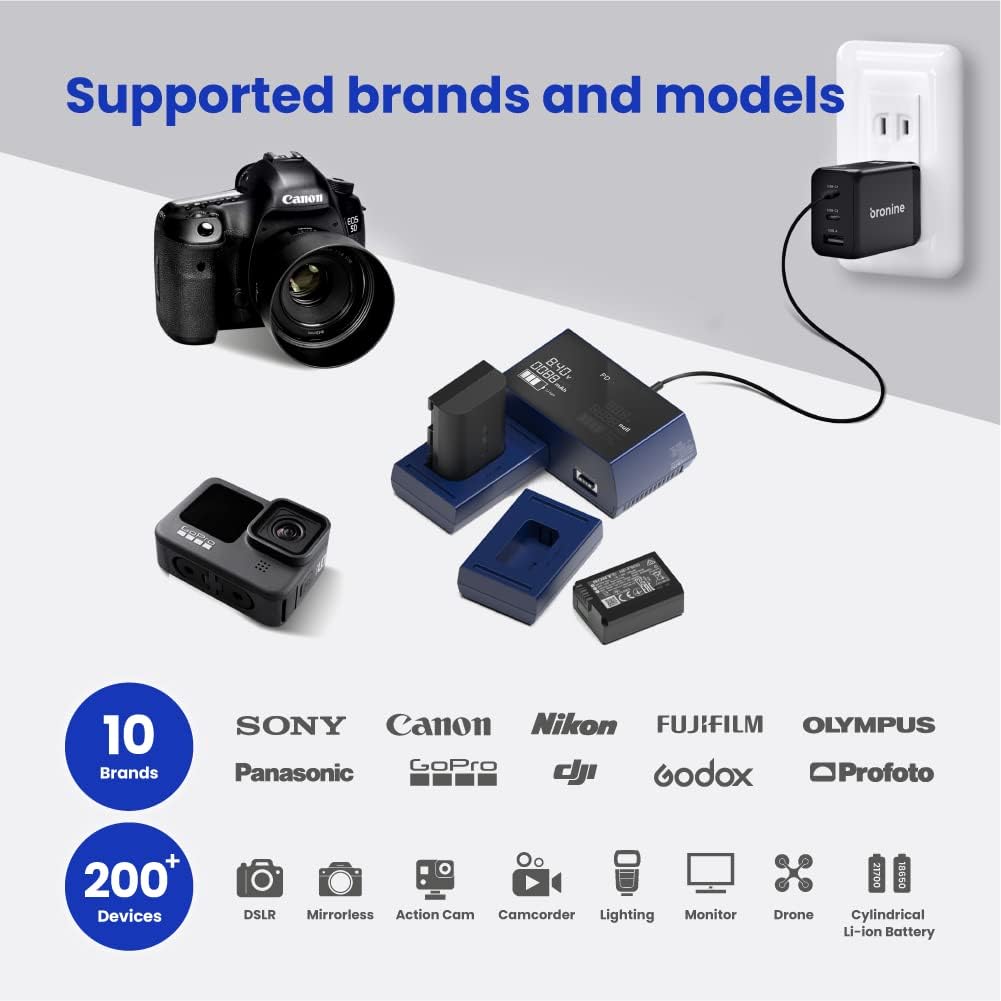 Bronine 2 Port Base Battery Charger
With the 2-port charger from Bronine, you are well-equipped to charge your Nikon, Canon, Sony, Fujifilm, Olympus, Panasonic, GoPro, or DJI devices. Whether it's a DSLR, mirrorless camera, drone, action camera, cylindrical lithium-ion battery, or camcorder, this charger supports them all. Particularly impressive is the speed of simultaneously charging two batteries, achieved in just 81 minutes. This means a 2.8 times faster charging compared to conventional chargers. The 2-port camera battery charger from Bronine also impresses with its lightweight and compact design. With just 92g, it is lightweight and compact, allowing you to take it anywhere. You can charge it anywhere with the PD/QC-supported adapter, power bank, or car charger. With the LC display, you always have an overview of the charging status and battery information. Give yourself a perfect charging experience no matter where you are. Included in the package: 1x Charger 1x USB-C to USB-C cable Important Notes: Requires the corresponding Bronine charging stations! - Please order accordingly. This display is not 100% accurate but quickly shows if a battery has less capacity than expected. A PD or QC compatible USB power adapter must be used as the power source. Charging will not start with regular 5V/2A. Depending on what your power adapter supports and how much charging current the inserted battery can handle, the VKHUB2P charges at up to 1A per channel. We recommend using GaN power adapters with native USB-C connector, Power Delivery protocol, and at least 45W charging power. More is possible, of course. The display of the recharged capacity is not calibrated and may slightly deviate from the real capacity. It serves as a quick reference to identify significant deviations in capacity.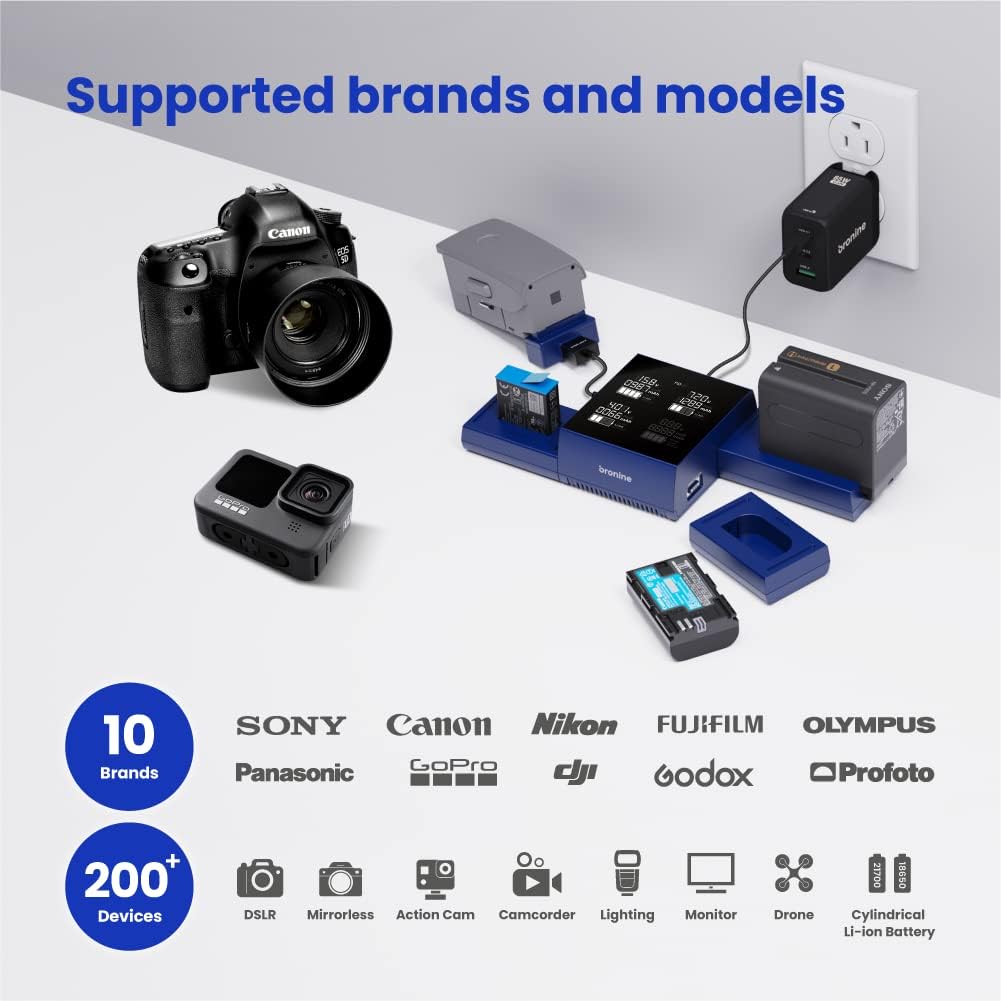 Bronine 4 Port Base Charger
Mit dem Bronine 4 Port Basis Ladegerät sind Sie bestens ausgerüstet, um Ihre Nikon, Canon, Sony, Fujifilm, Olympus, Panasonic, GoPro oder DJI Geräte aufzuladen. Egal ob DSLR, spiegellose Kamera, Drohne, Actionkamera, zylindrischer Li-Ionen-Akku oder Camcorder - dieses Ladegerät unterstützt sie alle. Besonders beeindruckend ist die gleichzeitige Ladegeschwindigkeit von vier Akkus, die in nur 81 Minuten erreicht wird. Das bedeutet 2,8-mal schnelleres Laden im Vergleich zu herkömmlichen Ladegeräten. Dabei überzeugt das Bronine 4-Port-Kamera-Akkuladegerät auch durch sein geringes Gewicht und Volumen. Mit nur 130g ist es leicht und kompakt, sodass Sie es überallhin mitnehmen können. Dank des Adapters, der PD/QC unterstützt, einem tragbaren Akku oder einem Zigarettenanzünderanschluss, können Sie überall laden. Und mit dem LCD-Display behalten Sie stets den Ladestatus und die Akkuinformationen im Auge. Gönnen Sie sich ein nahtloses Laderlebnis, ganz gleich wo Sie sind. Lieferumfang: 1x Ladegerät1x USB C auf USB C Kabel Hinweis: Benötigt passende Ladedocks! - Bitte passend dazu bestellen.