Improved Image:
External lenses for smartphones are often of higher quality than the built-in lenses. They can provide better light intensity, sharper images and less distortion. This results in higher overall image quality, especially in situations with difficult lighting conditions or when you want to get very close to an object (macro shots).
Creativity and Versatility:
With different lens types such as fisheye, telephoto, wide angle and macro, users can be more creative with their photographs. You can capture unusual perspectives or photograph subjects in ways not possible with standard camera settings.
Use for Social Media:
Since many people share photos on social networks directly from their smartphones, additional lenses can help increase the quality and uniqueness of the shared images without the need for post-processing on a PC.
Which Smartphone Lens for wich situation?
Wide angle lens



A wide-angle lens has a shorter focal length, allowing more of the scene to be included in the frame, which is particularly useful in tight spaces or for landscape photography. It slightly distorts perspective by making objects at the edge of the image appear larger, which can result in dramatic effects.



Super wide angle lens



Super wide angle lenses have an even shorter focal length than wide angle lenses and therefore capture an even wider scene, making them ideal for large landscapes or architectural shots. These lenses can cause extreme distortion at the edges, which can be used creatively to enhance a sense of width or space.



Fisheye lens



Fisheye lenses offer an extremely wide angle of view that produces a 180-degree view, similar to what a fish would see underwater. The resulting images have a characteristic spherical distortion that can be used for artistic and humorous effects in photography.



Macro lens



A macro lens specializes in projecting small, life-size or larger objects onto the image sensor, making it ideal for detailed photography of insects, flowers, or other small objects. It provides increased depth of field and allows the photographer to get very close to the subject to capture fine details that would not be visible with a normal lens.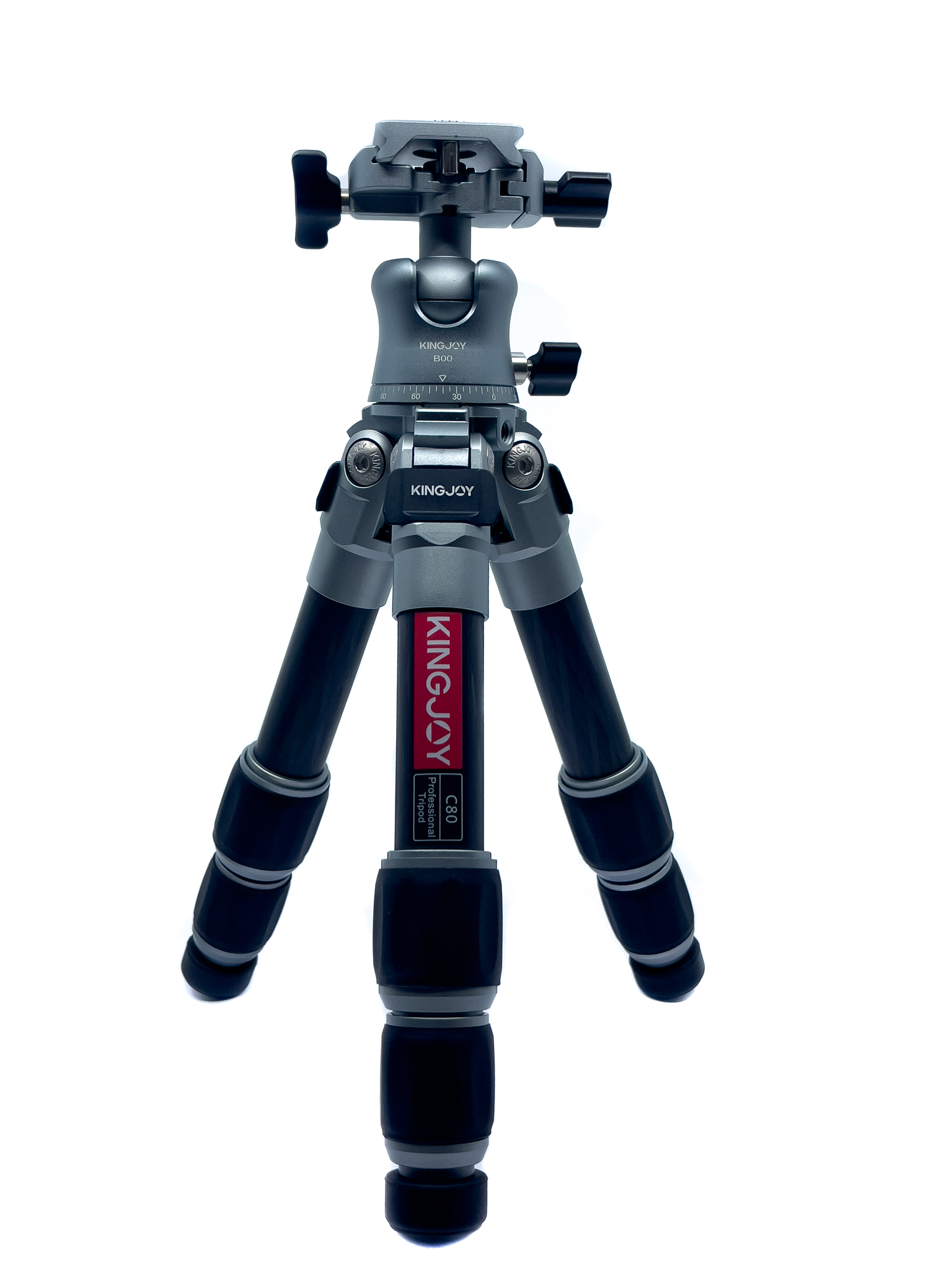 Solid Rock Carbon Fiber Tripod C80 with Ball Head B00
With the handy and lightweight C80 camera tripod from Kingjoy, you are just one click away from the perfect photo! The camera tripod can be easily packed away in your bag and is just as quickly ready for use again. Thanks to the quick-release screw fasteners, the tripod can be adjusted steplessly. No matter if the ground is sandy or muddy - thanks to the included replaceable rubber feet and spike feet, your tripod stands bombproof on any ground. The carbon tripod can hold up to 10 kg of heavy professional equipment. Thanks to the flexible construction, even ground shots are possible. Scope of delivery: Kingjoy Mountain Series Carbon tripod C80 with ball head B00 3x non-slip rubber feet (pre-mounted) Bag Strap for bag User manual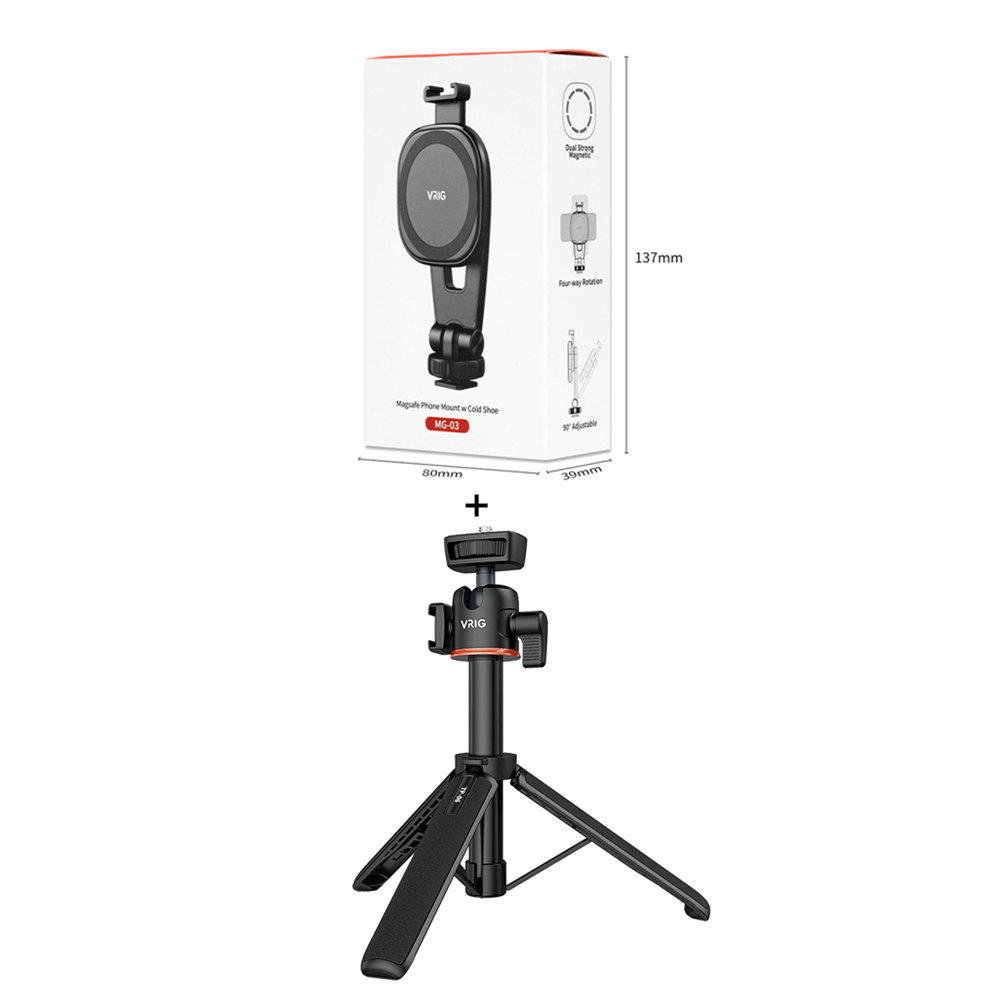 Tripod Set with MagSafe Smartphone Holder
Discover completely new possibilities for your mobile phone photography and videography with our versatile tripod set that includes a MagSafe smartphone mount! You can tilt the smartphone up to 90 degrees to find the perfect shooting angle. With 4 adjustable heights (29 cm, 37.5 cm, 46 cm and 55 cm), the tripod effortlessly adapts to different situations, be it for portraits, landscapes or videos. A special feature of this mobile phone tripod is the option to use it as a selfie stick. Simply detach the holder from the tripod, extend it and you can take great selfies and group photos. The tripod is lightweight, compact and easy to carry, perfect for travel, vlogs, livestreams or just everyday use. Whether you're an amateur photographer, content creator or social media enthusiast, this tripod set will take your mobile experience to the next level! Explore the world of photography with the tripod set with MagSafe smartphone mount. Scope of delivery: 1x tripod for smartphone 1x MagSafe holder for smartphone 1x MagSafe adhesive pad for Android smartphone